If you are upgrading from Windows 7 to Windows 10 or planning to buy a brand new Windows 10 PC, then Microsoft has a website dedicated to helping you choose the next PC. The website clearly states — We'll help you find a computer that meets your needs!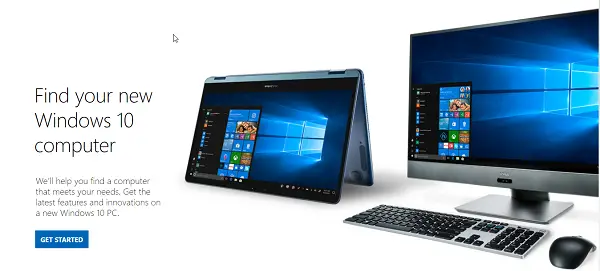 This site will help you choose your next Windows 10 PC
When on the website, click on the Get Started button. It will launch the Wizard, which will take you through a series of questions. Based on your selection, the wizard will recommend a computer that should meet your requirements.
Usage: Everyday Home use, Work, School, and PC Gaming
Performance: Here, you choose options for high performance and everyday use. You can select a maximum of three from all of them.

High-Performance Features 

Run multiple programs
Professional video and photo editing
Playing games
Digital Pen support
LTE connectivity

Everyday Use 

Windows Hello Secure Login
Touchscreen
Battery life (10+ hours)
Video Streaming
Basic internet tasks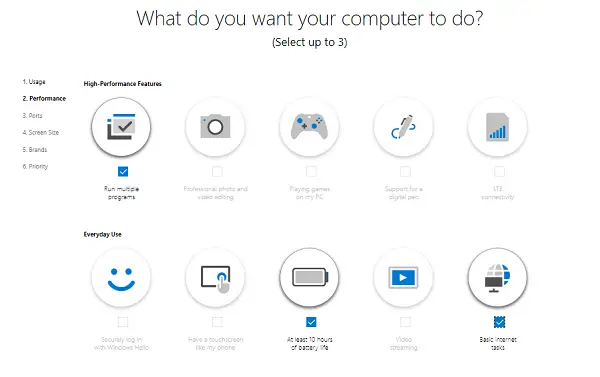 Ports: USB, USB-C, HDMI, Thunderbolt 3.0. You can choose one or all the ports based on your requirements.
Screen Size between under 12 inches to more significant than 23 inches
Brands: Choose from nine of the listed brands, which include Acer, HP, Asus, Dell, Lenovo, LG, Microsoft Surface, Samsung, and MSI. Choose none if you want to see recommendations based on all the brands.
Priority: Choose between features and performance, connecting my stuff, screen size, and brand. It will be the top filter on which the suggestion will be made.
Visit Microsoft.com to get started. Once done, it will start finding PCs from different brands based on the requirement.
When I tried it, I received the following message:
You said a computer that can run multiple programs, and has at least 10 hours of battery life was most important to you. You also wanted a computer that has USB-C, HDMI, has a larger than 23 inch screen, and is an ASUS, or HP. Based on current availability, here are some PCs that have some of those and a few other features you might like. Check each device for its feature capabilities and specifications.
I was recommended ASUS ZenBook Flip 14 UX461, ASUS ZenBook 13 UX333FA, ASUS VivoBook Flip 14 TP412 and HP Spectre x360 15.
Let us know if you find the site useful.