Office 365 is more secure now. After checking for a few months, the Redmond giant has now officially announced their Threat Intelligence and Data Governance Services for general public. Both of these products are available for sale as a part of Office 365 Enterprise.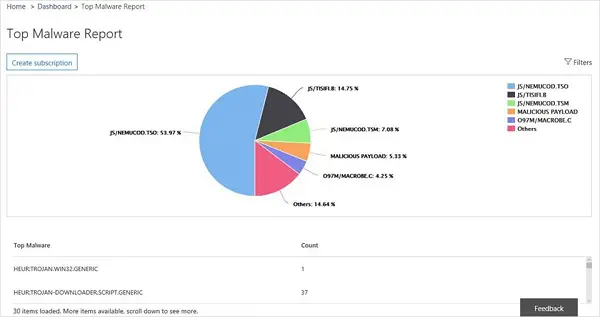 Office 365 Threat Intelligence & Advanced Data Governance
Microsoft says, "With the launch of Office 365 Threat Intelligence, we are enriching security in Office 365 to help customers stay ahead of the evolving threat landscape. Today, we're also introducing a new reporting interface to improve the customer experience for Advanced Threat Protection (ATP) and extending the ATP Safe Links feature to Word, Excel and PowerPoint for Office 365 ProPlus desktop clients".
Making Office 365 safer and more secure, the Office 365 Threat Intelligence Service include advanced threat alert notifications, interactive tools to analyze threats, actionable remedies for suspicious content, and integration with SIEM Solution and Exchange Online Protection. The service relies on Microsoft Intelligent Security Graph technology to collect the data which is based on millions of data points, Azure ecosystems, Office clients and their authentications.
Simply put, the new Threat Intelligence Service will provide you the detailed information about any suspected malware and breach inside as well as outside your organization.
The Advanced Governance will help businesses to apply various data retention policies along with best policy recommendations. The service is further designed to alert the businesses about the suspected data governance risks. Also, users will be allowed to create the custom alerts and apply the compliance controls to their on-premises data.The service will be getting more security features like "manual supervision and disposition and event based data retention" etc. in the coming months, as per the official blog post by Microsoft.
Microsoft is providing the Office 365 Advanced Data Governance in the Office 365 Enterprise E5 plan.
Talking about Advanced Governance Service Microsoft said, ""Effective governance of unstructured information across communication, content and social platforms has long been a goal of organizations. Microsoft Office 365 Advanced Data Governance appears to provide a well-thought-out solution that is integrated into their entire Office 365 suite. This functionality and integration provides the powerful potential of delivering on this long-sought-after goal, and doing so without a major burden to end users."
Other significant updates to Advanced Threat Protection include Enhanced Office 365 Data Loss Prevention (DLP) management experience and compliance capabilities within Office 365.
Head over to the official announcement to learn more about the Threat Intelligence and Advanced Data Governance.