Like Firefox, Microsoft's new Edge is improving its efforts for Tracking Prevention. These trackers include anything which creates a profile of the user and keeps a track on pages they visit on the internet. In the recent announcement by the Edge team, they claim to have blocked 25% more trackers than the last version. Along with this, Edge is also giving Social Org's domains an exception by not blocking their trackers under specific criteria.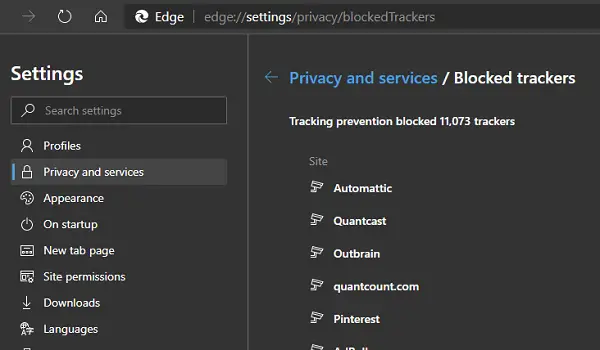 What's new with Tracking Prevention in Microsoft Edge
In version 79, the Edge team wants to make a Balanced mode of tracking prevention better. One should know that some organizations need the trackers for them to work and thats where the exception comes into the picture. However, the criteria are that the user should have a relationship with the organization. The connection is determined by how a user interacts with the website. Also called Site Engagement, which includes if the user is logged into the website, media playback, scrolls, clicks, and more. Some websites also span across multiple domains where tracking becomes a necessity.
Microsoft wants the Balanced mode to work in such a way that trackers can be blocked, but in the way that it breaks user engagement in such scenarios.
How can you check your Site Engagement score on Edge?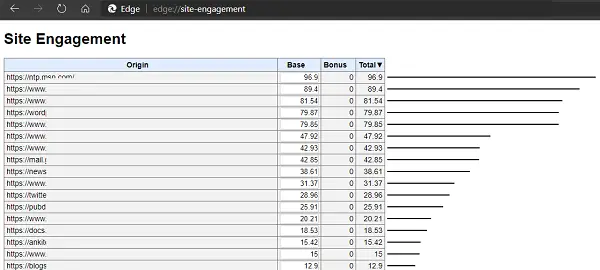 Type edge://site-engagement/ in a new tab, and it will reveal a list of websites you had been interacting with along with the score. This core is for the device, which means the score can change when you switch the computer. Site Engagement scores are not synced across devices.
According to the Edge team, if the engagement score is above 4.1, then a suitable threshold to define a site that a user has an active relationship. The same site engagement score is used for websites that are managed by the same organization or where the services need to work seamlessly. A simple example would be when you are visiting various domains of Microsoft, and you are not asked to log in to your account all the time. The same applies to Google Services and other organizations.
That said, it is not giving any permanent clearance. Any tracker which falls into Browser Fingerprinting or Cryptomining categories will be blocked. Edge will always block storage access and resource loads for sites for this category.
InPrivate Changes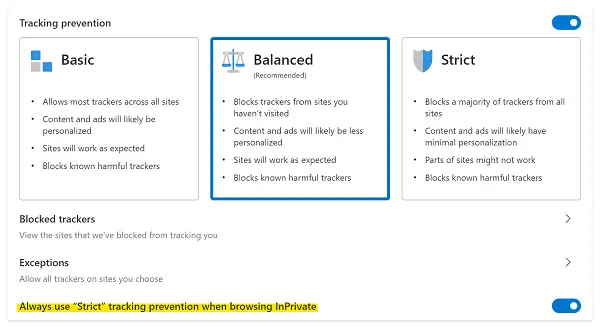 In the last version, based on the feedback, the Edge Team enabled Strict tracking mode for InPrivate mode. It broke a lot of things. In the latest version of Edge, this is optional. If you need to enable Strict mode in InPrivate mode, here is what you need to do
Go to edge://settings/privacy in a new tab.
Scroll to the end and enable Strict tracking. The default mode is balanced.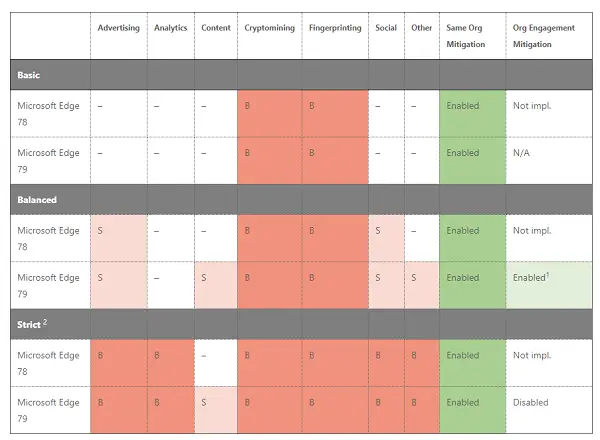 If you are interested in looking at the list of trackers blocked, then go to edge://settings/privacy/blockedTrackers.
Here you can view how many times the tracker was blocked, and a list of all the trackers. The Edge team has also released a table that shows how trackers are blocked in Basic, Balanced, and Strict mode.
Read more about it on the MSEdge Blog