20th Century Fox, this June, plan to release The Internship, a movie about two men who lose their jobs, know nothing about computers and yet decide to try and get a job at Google.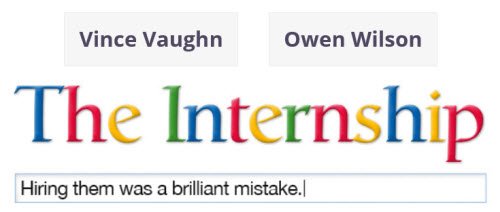 The Internship is a comedy movie about what it is like to work at Google. The leads are being played by Owen Wilson and Vince Vaughn.
Billy (Vince Vaughn) and Nick (Owen Wilson) are salesmen whose careers have been torpedoed by the digital world. Trying to prove they are not obsolete, they defy the odds by talking their way into a coveted internship at Google, along with a battalion of brilliant college students. But, gaining entrance to this utopia is only half the battle. Now they must compete with a group of the nation's most elite, tech-savvy geniuses to prove that necessity really is the mother of re-invention. The Internship opens in theaters June 7, 2013.
The website is already up and includes an interesting interactive play asking you to apply for internship. More interesting tidbits can be found on its Google+ page.