Yesterday, some Twitter users reported they encountered a problem while trying to log into their Twitter or TwitPic account using Google's Chrome browser. Google referring TwitPic as a malware distributor and citing reasons that the micro-blogging platform's picture sharing service TwitPic was a malicious threat to computers blocked millions of Twitter accounts.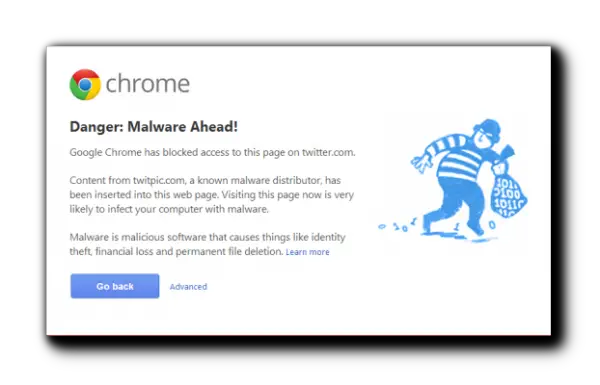 The uncalled action from the internet search giant rendered millions of Twitter accounts inaccessible for several hours. Any visitor trying to access their Twitter or TwitPic account was displayed with a fairly frightening message warning users that continuing to the website could endanger their PCs.
The message was as follows: "Content from Twitpic.com, a known malware distributor, has been inserted into this web page. Visiting this page now is very likely to infect your computer with malware,".
Google even blocked access to many photos from search results in other browsers.  TwitPic however declined these reports and said that it is currently trying to contact Google to remove the malware warning because "it is not true." In a statement issued, TwitPic stated, "We've asked Google and TwitPic to provide more information on the cause of the disruption."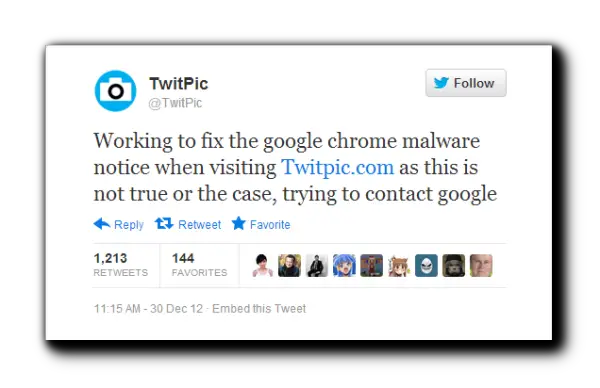 As of now the situation is under control and Google's engineers have managed to reverse the block. Users may continue to access the feeds and host your own images. If the disruptions caused you a serious problem, share it with us in the comments section below.