Surprised to see theme park based Google Doodle today on Valentine's Day? Don't be!!
It George Ferris' birth anniversary today and Google is celebrating both the events together on it two-in- one Doodle. Google is celebrating the 154th birth anniversary of George Ferris' (the man behind the original Ferris wheel) and Valentine's Day together by featuring this Doodle having a theme park as well as love couples and a heart logo.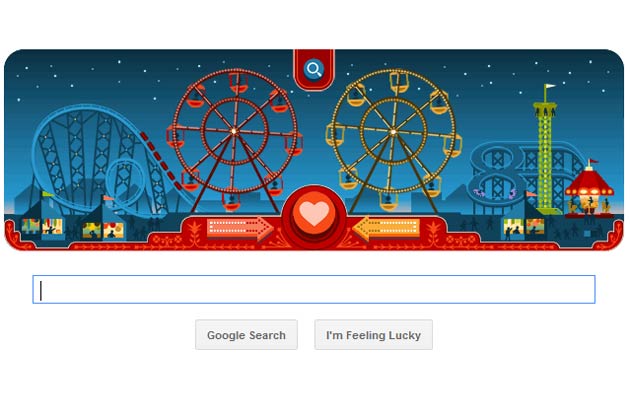 The lively and interactive Google Doodle on Google's homepage features a pair of Ferris Wheels used as the two Os of Google. It features an amusement park in the backdrop and 'Google' is written using different rides of the park.
G- Roller coaster ride
O- Ferris Wheel
O- Ferris Wheel
G- Go cart ride
L- A tower
E- Merry-go-round ride
It is an interactive doodle overall. You can know more about George Ferris by clicking the blue spyglass on the top or the Doodle and by pressing the Heart logo in the bottom center you can check the pictorial love stories of different animals.
The Doodle has 10 love stories and every time you click on the Heart button you can check a new love story. Some of the love stories in the Doodle are very funny, like the love story of Rabbit and Tortoise where Rabbit is waiting for tortoise in a restaurant for a dinner and tortoise reaches when the restaurant is closed.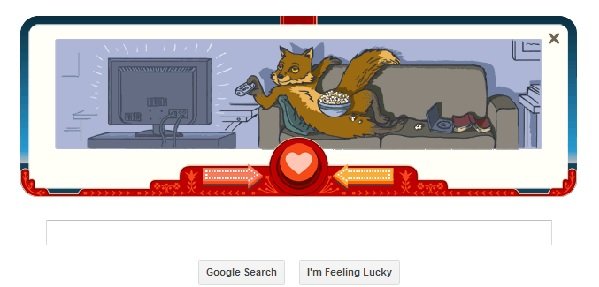 The love stories end up with that of a fox that has no date and celebrates his Valentine's Day by watching TV at home.
Good Job Google!!!!
Happy Valentine's Day!