Ultimate Windows Tweaker 4.2 has been released with several new tweaks and will support Windows 10 Anniversary Update v1607. Not only does the tool offer more than 200 tweaks, it even lets you create a system restore point, run System File Checker, repair system image using DISM, access Advanced Recovery Options and run PC Assessment, with just a click of the button.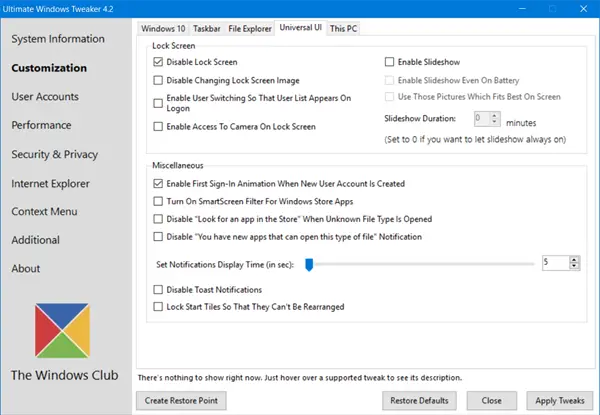 Ultimate Windows Tweaker 4.2 for Windows 10 v 1607
This version includes several new tweaks that will be offered to users of Windows 10 Anniversary Update. Users who are running earlier versions of Windows 10 can also use this UWT 4.2 version. You will be offered the tweaks which support your OS version.
Changes
The "Apply Tweaks" button now applies tweaks only to the currently viewing section.
Support for Windows 10 Anniversary Update. Modified incompatible tweaks and added new tweaks.
When tweaks use sliders to change values, you can now directly change the values from the box present in front of the sliders.
New tweaks

Use Increased Taskbar Transparency
Change Inactive Title Bar Color
Disable Quick Action Buttons In Action Center
Change Microsoft Edge Download Location
Disable Edge Tab Preview
Adjust Edge Tab Preview Show/Hide Delay Time
Disable App Access To Location
Disable App Access To Calendar
Disable App Access To Messages
Disable App Access To Microphone
Disable App Access To Camera
Disable App Access To User Account Info
This 220 KB download lets you judiciously tweak your Windows 10 and personalize your computing experience. It can make your system faster, more stable, personal and more secure with just a few mouse clicks. While you may be able to access all these via the Windows 10 Settings app, the Registry Editor or the Group Policy Editor, Ultimate Windows Tweaker makes things easier for you by offering all useful tweaks from its single UI.
Go get it from the Ultimate Windows Tweaker 4 home page.