One of the most requested features was for Ultimate Windows Tweaker to have a Search functionality that would let users easily search for the over 250 tweaks that the popular tweaking software has to offere. We are happy to say that Ultimate Windows Tweaker 4.3 now lets you easily search for tweaks and even jump to the tweak with a few clicks.
Ultimate Windows Tweaker 4.3 lets you Search
Ultimate Windows Tweaker letws you tweak your Windows 10 and personalize your computing experience. With judicious tweaking, it can make your system faster, more stable, personal and more secure with just a few mouse clicks. It even lets you create a system restore point, run System File Checker, repair system image using DISM, access Advanced Recovery Options and run PC Assessment, with just a click of the button.
UWT version 4.3 adds the following new features and tweaks:
Introduces the search functionality to easily locate your desired tweak
View detailed information about Windows Experience Index including all scores
Disable Windows Ink Workspace
Enable "Do you want to close all the tabs?" prompt in Edge
Hide Windows Defender Icon From Notifications Area
Show Seconds In Taskbar Clock (Customization->Taskbar)
Disable All Live Tiles (Customization->Universal UI)
Enable Auto-Complete And Auto-Suggest
Disable Taskbar And Start Jumplists
Check By Default "Do this for all current items"
Change Default Behaviour For Drag-Drop In Explorer
Remove 3D Print With 3D Builder context menu item
Remove Scan With Windows Defender context menu item
Remove Edit With Paint 3D context menu item
Remove Cast To Device context menu item
Extended Info Bar to show full description of the tweak
New Desktop Context Menu Tweaks for Character Map, Control Panel and Windows Update
Many design improvements and lots of bug fixes.
To search for a tweak, click the Search For Tweaks link in the left panel. Rhe Search box will open. Enter the keyword or keyphrase and click Go.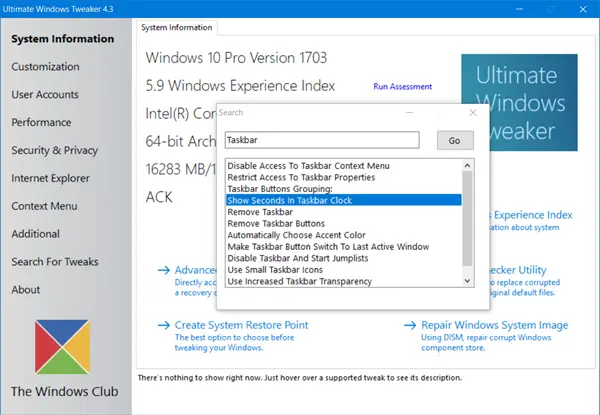 All the relevant links will be listed. Select and double-click on the tweak you want and UWT will display the tweak right away.
If you are using Windows 10, you definotely want to download Ultimate Windows Tweaker 4.3 from its official homepage.