Ultimate Windows Tweaker 4.7 has been released. Apart from letting you disable Bing web search results, it also offers additional tweaks, feature changes, and bug fixes. Download it free for Windows 10.
Disable Bing web search results in Taskbar Search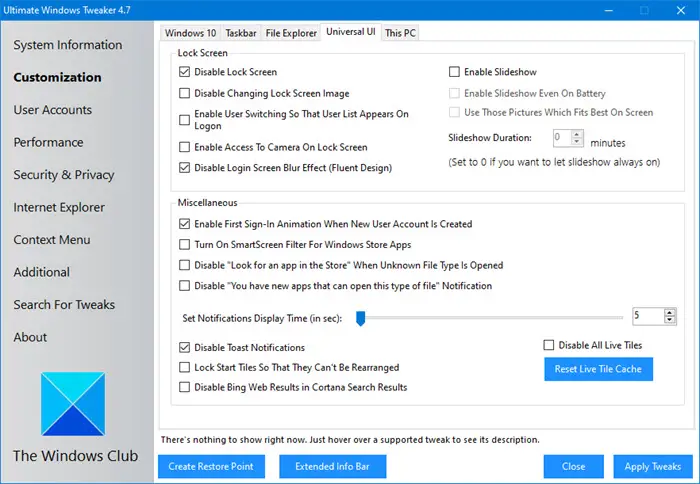 Windows 10 now has separated Cortana and Windows Search. The search looks a lot better, but it still shows Bing web search results in the results. This is a useful feature. Some like it – and some don't. If you do not use this feature, you can disable it, if you want to. While one can use the Registry to disable Bing web search, Ultimate Windows Tweaker lets you do it with a click.
Download it, extract the contents, and then run the executable.
After opening it, navigate to Customization > Universal UI > Disable Bing Web Results.
Ultimate Windows Tweaker v4.7 Changelog:
Windows 10 v1909 Support
Disable Bing web search results.
Tweak descriptions have been updated throughout the software to make things more clear.
Bug Fix: "Hide Windows Defender Icon From Notifications Area"
Restore Defaults option is no longer available. The reason behind this is every major update of Windows 10 brings a lot of changes to default settings. Configuring them for separate version may create bugs which are difficult to be found and fixed.
Ultimate Windows Tweaker is like a TweakUI for Windows 10. While you may be able to access all these via the Windows 10 Settings app, the Registry Editor or the Group Policy Editor, Ultimate Windows Tweaker makes things easier for you by offering all useful tweaks from its single UI. UWT 4.7.1 includes a minor bugfix.