In its attempt to make Progressive Web Apps as accessible as native Windows apps, Microsoft has introduced a new feature to Windows 10. Now, users can uninstall the Progressive Web Apps on Chrome from the Settings menu itself.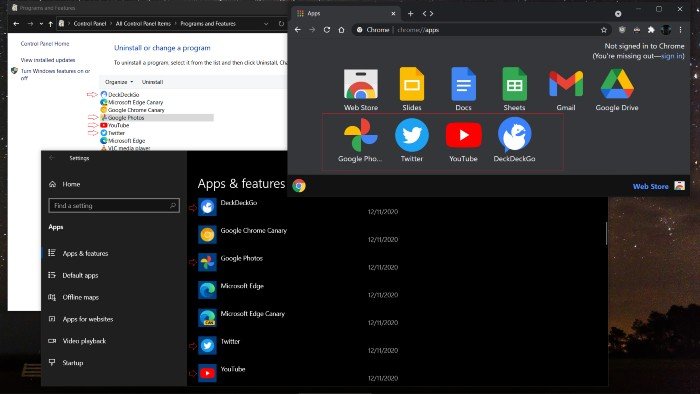 Uninstall Chrome PWAs from Windows 10 settings
Earlier, this feature was available only for Microsoft Edge, but the expansion to Chrome is good to see. This is how the feature works. When a Windows 10 user uninstalls the PWA from the device's Settings menu, the PWA would also be removed from the corresponding browser, both Edge and Chrome.
Microsoft had used the Chromium project to bring this useful feature to Chrome. As a result, when you want to remove unwanted PWAs from your computer, you don't have to remove them separately from Chrome. The company had announced this feature a few weeks back, and the feature has now made its way to the Canary and Developer builds of Google Chrome.
If you have any of these versions, you can enable this from the chrome://flags. Microsoft has not stated whether and when the feature would be made available in the stable versions of Google Chrome, but it is very likely.
Chrome has the habit of testing these innovative features in the Canary/Dev builds before launching them to the public. Going by that standard, we should be seeing this update in a few weeks. At least, users would have an option to go to chrome://flags and enable the particular feature.
According to a screenshot shared on Reddit, the PWA removal process works seamlessly. When you click on the Uninstall button for a PWA from the Apps & features menu, you can click an additional option called 'Also clear data from Chrome.'
Once you have ticked that option, Windows 10 will remove all Progressive Web App traces from your computer. As said earlier, Chromium users only have this privilege right now.
If you want it and some additional features, you can always consider shifting to Google Chrome Canary or Chromium for Windows. The other option is to wait for a few more weeks until Chrome decides to push the public's feature.
Via: Reddit.