Windows 10 comes with a few first-party native apps, many of which cannot be uninstalled. However, with every version, the criteria to decide these applications has been changing. Recently, Microsoft published a support article stating that the operating system will not allow you to uninstall the Your Phone app. The reason is that the app is "deeply integrated into Windows to light up multiple cross-device experiences."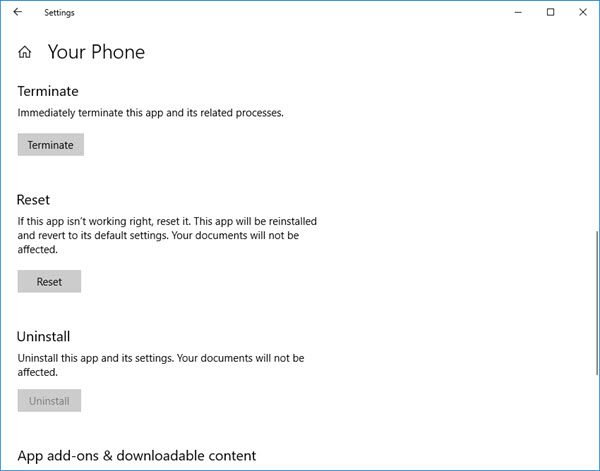 Your Phone app cannot be uninstalled
The Your Phone app is deeply integrated into Windows to light up multiple cross-device experiences now and in the future. In order to build more of these experiences between phones, PCs, and other devices, the app can't be uninstalled.
Before this update, the Your Phone app could be uninstalled directly from the Apps and Features menu. The new policy has been pushed to Windows 10 systems after the v1903 featured update since the option to uninstall the Your Phone app appears greyed out recently.
What is Your Phone app?
The Your Phone app helps connect your Android phone or iPhone to your Windows 10 computer using the Your Phone Companion app. Once you are logged in to the app on both the devices using devices through the same Microsoft account, you would be able to access the phone's images and texts on your connected Windows 10 computer.
Currently the Your Phone app supports sharing photos and SMS texts only. However, it seems that Microsoft is planning to work towards expanding the utility of the application. The app is an excellent concept since it helps you keep in touch with your phone contact while working on your computer. It wasn't popular till recent, but would surely gain users soon.
Read: How to use Phone Link app in Windows 11/10.
How to uninstall Your Phone (Phone Link app) app
You can remove the Your Phone app using PowerShell. Execute the following command in an elevated PowerShell prompt:
Get-AppxPackage Microsoft.YourPhone -AllUsers | Remove-AppxPackage
You could also use freeware like CCleaner to uninstall it.
However, it would probably re-install when the next feature update is pushed to the system.
If you wish to reinstall it, you can download it from the Microsoft Store.
NOTE: "Obviously" says in the comments that this no longer works in Windows 10 20H2.