The much awaited Microsoft Lumia 950 XL will go on sale starting from November 25 on the Microsoft US Store. The Unlocked Lumia 950 XL will be priced at $649 and the buyers will also be treated to a free Display Dock, which would otherwise cost an additional $99.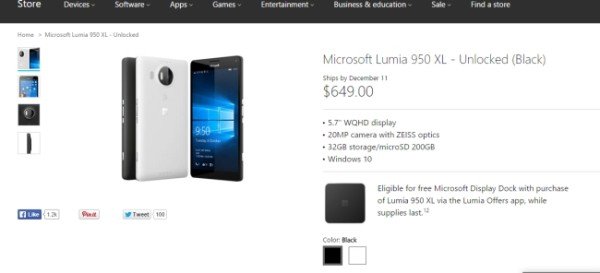 The Lumia 650 XL has already been listed on the Microsoft store and the Display Dock can be only bought by using a promotional code. Microsoft has clearly stated in its terms that,
"To obtain your promotional code, you must activate your device, and sign in to the Lumia Offers App on your eligible Microsoft Lumia phone with a Microsoft account on or before January 31, 2016."
Once the code is received it can be redeemed in the Microsoft Store for the display Dock, however the redemption comes with a deadline of February 29-2016, post which the offer would be considered null and void. That being said Microsoft has also added a "till supplies last" tag to the free Display Dock offer which makes it a bit more confusing.
The Lumia 950 XL will be the larger one of the freshly released flagships from the Redmond company and it does pack quiet a punch when it comes to the hardware, not to mention that the device will be running Windows 10 Mobile allowing it to leverage the new features. The Lumia 950 XL is powered by a Snapdragon 810 clocked at 2GHz and paired with a 3GB of RAM. The 5.6-inch OLED Clear Black WQHD screen boasts of a 518ppi display density.
On the storage front the device concludes with a 32GB of Internal storage and an microSD card slot that can accommodate up to 200GB of storage. The imaging department is graced by a 20-Megapixel primary sensor along with Optical Image Stabalisation and a FHD 5-Megapixel secondary snapper.
The phone will be available in both Black and White color options and will start shipping from November 25.