Microsoft has announced the availability of the Unlocked Surface 3 4G LTE Tablets across the US starting July 24th. However, before the end of the day, the company came back with a quick clarification that the unlocked version of the Surface 3 tablets with 4G LTE would be available only late August.  Microsoft stores and other retailers would be selling the 4G LTE version, along with that Microsoft stores would also provide AT&T and T-Mobile SIMs to the buyers.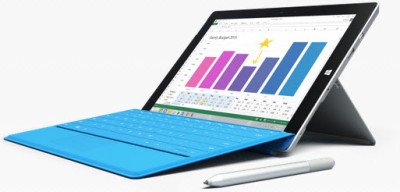 Currently, Surface 3 4G LTE Tablets are available for sale only through AT&T Wireless, while business customers can purchase Surface 3 (4G LTE) at T-Mobile starting July 31.
AT&T is first to sell Surface 3 4G LTE Tablets
A few days ago, AT&T had revealed that it would be the first telecom carrier to offer Surface 3 4G LTE Tablets in the US. Today, the Tablets are actually available in AT&T stores. Meanwhile, US is not the first market to get Surface 3 4G LTE Tablets. The device was first launched in Japan on July 1st followed by France, Germany, Spain, and the UK.
On price and versions
Through AT&T, buyers can purchase Surface 3 for $0 down and $30 per month with an AT&T Tablet Installment plan. In addition, for a limited time, the carrier is offering Surface 3 for $399.99 with any Lumia smartphone purchased on AT&T Next. Also, a commercial version of the Surface 3 will be available to business customers in the coming weeks.
For those willing to wait until August end, they can buy the unlocked version of the Surface 3 LTE at $599 for the version with 2GB RAM and 64GB of storage, and $699 for the version with 4GB RAM and 128GB of storage.
Microsoft Surface 3 4G LTE Tablets, are still very new to the general market as until now they were available only to the business users. This is the first time when Microsoft would get feedbacks from the general public. We wish Microsoft Surface Team, luck and success.