Windows 10 1909 update came with a significant bug—it prevented File Explorer's Search Bar from receiving user input. After a wait for three months, Microsoft has released Cumulative Update to fix Search and other issues in Windows 10. The release is under KB4517245.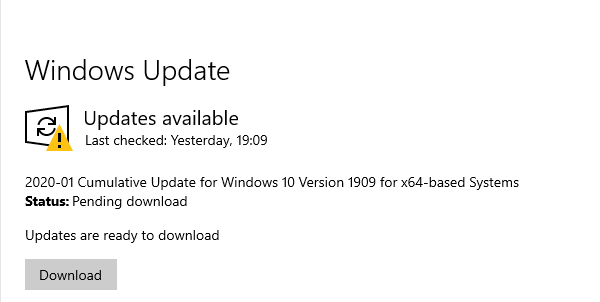 Microsoft releases Update to fix Search in Windows 10
First, let's check out the list of improvements made to Windows 10 1909 with these fixes.
It improves the accuracy of Windows Hello face authentication.
Fix what changed the user-customized order of tiles in the Start menu even though the layout is locked or partially locked.
You will not see any grey box when you search within Control Panel and File Explorer.
It fixes an issue that prevents File Explorer's Search Bar from pasting clipboard content using the right mouse button (right-click).
It resolves an issue that prevents File Explorer's Search Bar from receiving user input.
The touch keyboard doesn't close when you select any key.
Fixes the cause because of which multiplayer PC games drop the invitation to play the game in multiplayer mode.
Updates an issue that sometimes causes an error when you unplug a USB type C hub flash drive.
Updates an issue that displays incorrect indicators for offline and online files.
And now some good news for users on Windows 10 1903. Microsoft is adding the ability to enable some of the features that are available in v1909. However, the end-users will have to enable it manually using an enablement package, which is a small, quick-to-install "master switch" that activates the Windows 10, version 1909 features. Unless it's switched on, the features remain in a dormant stage.
Windows 10 1909 & Windows 10 1903 to share a common update page
Since Windows 10, versions 1903 and 1909 share a common core operating system with an identical set of system files, expect some common updates to both the versions. Microsoft also shared both these versions will share a common update history page. Each release page will contain a list of addressed issues for both the 1903 and 1909 versions.
That said, if you are using Windows 10 1903, there are multiple ways to update to Windows 10 1909. It is especially handy for Enterprise customers. The method includes-
Windows Update: Now you can choose when you can install the next feature update. So if you don't see an update to 1909, check Windows update.
Self-managed devices: can use the deploy feature updates and update media is available in all of the normal channels
That said, if you want to uninstall the Enablement Package (KB4517245), you can uninstall from Update history. Go to Settings > Update & Security > Windows Update > View update history), select Uninstall updates, and uninstall the KB4517245.