PowerToys version 0.27 has now gone live with many stability and quality improvements. The updated version can be downloaded from the GitHub release page. The developers say they have skipped 0.26's release for higher priority work. So, what's new and useful in the latest release, we'll find out in this post.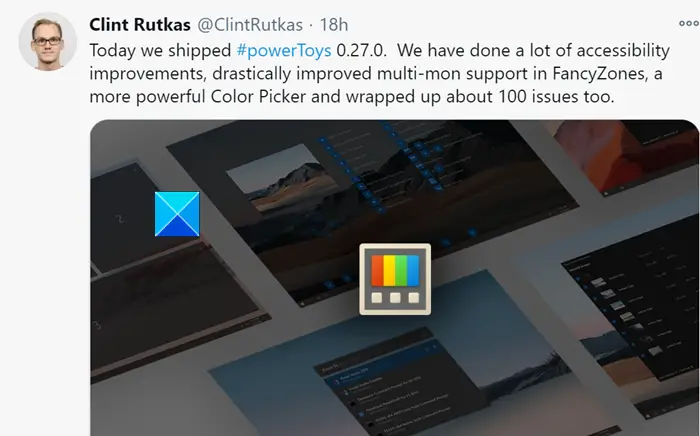 PowerToys version 0.27 released
Firstly, PowerToys version 0.27 includes new FancyZone multi-monitor support, an updated interface for Color Picker and Image Resizer. Apart from these, there are other changes made, useful for both the development team and the users.
Unfortunately, the work on the Video Conference utility has not yet materialized.  Microsoft explains it needs to do some additional work on the utility before it is ready to ship out. However, considerable progress has been made in this direction and we could see it coming in about a week's time.
Today we shipped #powerToys 0.27.0.  We have done a lot of accessibility improvements, drastically improved multi-mon support in FancyZones, a more powerful Color Picker, and wrapped up about 100 issues too, tweeted Clint Rutkas of PowerToys, open-source & @Windows dev tools at Microsoft.
Here's a rundown of the main features of the latest release:
Dark mode
Installer improvements
Updated Color Picker interface with new editor experience
Removed unused dependencies from PowerToys Run
Added Lookbehind support via Boost library, etc.
Summing up, developers have released a decent but much necessary update for the open-sourced PowerToys Windows power-user utility. It has also fixed many accessibility issues and improved localization, although the firm is still gathering feedback. For the entire commit history, you can look at the 0.25 release.
PowerToys is a set of utilities that enables Windows users to tweak and streamline their Windows experience for greater productivity. If you are looking for the PowerToys setup, you can download the latest version of the PowerToys from GitHub.