Microsoft recently announced a redesigned Skype for Mac 7.0 and a preview for Windows. This revamped version of Skype is released to deliver its users a refreshed experience while chatting or sharing something with their friends, relatives or colleagues.
If you already use Skype on your smartphone, then you can easily predict that this new updated Skype has followed the footprints of Skype on mobile for its renovation. Hence, you can find few similarities as well as numerous new improvements in this popular messaging and chat app.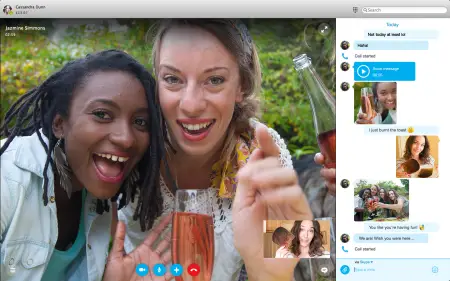 In a blog post, Microsoft quoted:
We've made the Skype experience consistent whether you are using your mobile device or your desktop PC. Skype loves bringing groups together—so, last but not least, the free group video calls we previously announced work better than ever on the redesigned Skype for Mac and Windows.
What's new in Skype app for Windows and Mac
Improved Chat experience
You can now enjoy the instant viewing of photos with beautifully enhanced display. Further, you will discover a new bubble-style chat design, thumbnail pictures of your contacts, and consistent icons for chat, video & audio calls.
Easy to Follow Conversations
On windows, it is now easier to track multiple conversations with additional spacing between contacts & chats and message preview as well.
Improved File Sharing
The improvements in the file sharing techniques now enable Skype to recognize standard document formats such as PDF and Office docs. Moreover, it will display relevant icons thereby making it easier to locate different files in the chat history.
Multi-tasking
With the new UI design, it is easy to call as well as chat simultaneously. The chat panel rests on the right side of the video pane thereby allowing the users to effortlessly share messages, documents or pictures, in the course of a call also.
On Mac, in one click you can perform multi-tasking (call & chat at same time) without obscuring your call.
Support for group video calls
Earlier, Microsoft offered its free group video calling scheme and now it is easier to take advantage of this functionality on the desktop platform too.
For downloading this new version of Skype for your devices, click here.