Microsoft finally announced a new look and many new features for its webmail service Outlook.com. Back in May, last year, Microsoft promised an upgraded Outlook.com and many new features. The Company has finally decided to take the preview label off and roll out the new business-class email experience to users worldwide.
The new and upgraded Outlook.com is now available only for the new users in North America but will reach most of its users worldwide in a week or so, said Microsoft in their official blog post. Users don't need to make any changes and all the newly added features and settings will automatically be transferred.
If you are using Outlook for Mac to connect to Outlook.com you will first need to delete your old Outlook.com account from Outlook 2016 for Mac and then re-add your account and if you are using it on your phone, you don't need to do anything, your phone will remain connected to Outlook.com after the upgrade.
New Features of upgraded Outlook.Com
A premium Outlook experience, powered by Office 365
With an idea to make your email, calendar data and other personal information safer, Microsoft is now bringing Outlook.com built on an Office 365 infrastructure. Furthermore, the Company adds some powerful Office 365 features to the refurbished Outlook.com. Some of the major features include- a smarter address book, ability to set automatic replies, toggling flags and syncing categories, better inbox rules and drafts, and better options to travel your schedule by adding flight confirmation to your calendar.
Collaborate effortlessly on documents and files
Microsoft has added new editing feature in Outlook.com which lets users collaborate their files and documents easily. Outlook being deeply integrated with Office provides a better way to receive and manage the files and documents attached in your email. The revamped Outlook will now let you edit Word, PowerPoint, and Excel documents while replying to the original message. You can also attach photos or files from Dropbox and Box and email the images with links rather than sending them at attachments.
Add-in Partners
The webmail service now has some interesting and useful add-in partners like GIPHY, YELP, and Wunderlist. You can get a quick access  to your favorite add-ins by adding them as add-in commands on top of the screen.

GIPHY being the largest GIF library online now will let you add interesting and funny GIF images in your mail. Yelp will help you getting some great deals for weekend shopping or to plan a dinner in a nice restaurant in your vicinity. Wunderlist, the add-in will move all your task-centric emails to a to-do list thereby organizing your day in a better way. Outlook already had some add-in partners like  Uber, PayPal, Evernote and Boomerang.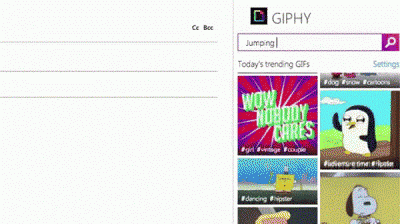 These add-ins are available to users of the new Outlook.com and Outlook 2013, Outlook 2016 and Outlook on the web users with Office 365 mailboxes.
Skype Integration
Outlook webmail service is now integrated with Skype allowing you to chat right from your mailbox. The company also has some plans to add a feature to schedule the Skype call right from Outlook.com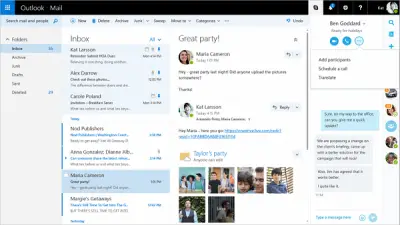 @Mentions
This is a new feature added to the upgrade Outlook where you can add anyone to your email conversation just by mentioning the @name. It will let the person know they need to respond to a specific message in your email. You can use this new @Mentions feature in both calendar invitations and email.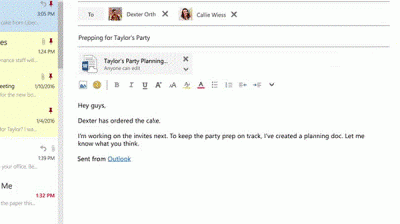 Emojis and Images
Outlook now lets you add emojis in your messages and spruce up your emails. You just need to type a colon and write any word like ":happy" or ":cake" and you will get a visual selection of matching emojis to select from. You can also add images to your email just by pasting them directly into the body of your message.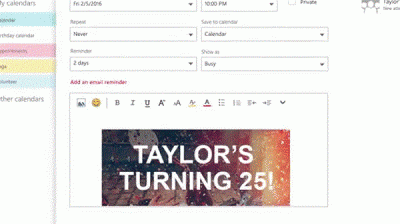 Microsoft as always is inviting the feedback and also promising some more interesting and useful features in near future.
If you have any queries, head over to the official Office Blog and do not forget to leave your feedback about new and upgraded Outlook.com.