f no or wrong App icons are being displayed, or if Pictures, Photos or Images is not showing default icon after you install the latest Feature Update on Windows 10, then this post will help you restore the default icons.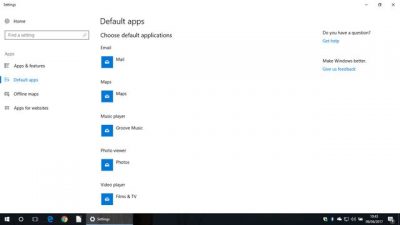 Windows 10 default app icons are wrong
A user has recently reported on Reddit that all default Windows 10 apps are displaying the same icon. The user has also uploaded an image showing the broken icons error. However, this is not a major issue and will not affect your productivity anyhow but might annoy you. I think this only happens on PC's that were upgraded from AU to CU (without Insider builds in between).
The user on Reddit has also posted the fix that helped him resolve this problem:
You have to Reset the apps!
Go to Apps & features > search for every default app one at a time.
Once you've located the app, click on Advanced options.
Select Reset and Confirm.
This fix will work on the individual app settings and reset the data on your PC and resolve the issue.
To reset the wrong icons for Photos, you may have to rebuild the Icon Cache. Create a system restore point and do this.
I hope this works for you.