It's been a while when Microsoft started discouraging the use of Flash due to reasons like performance, stability, and security. Over the past one year, Microsoft is suggesting website owners migrate their Flash based websites to something more secure like HTML5. The software giant constantly hinted that these websites will soon be blocked on its new browser, Microsoft Edge.
Users to control Flash on Microsoft Edge
In lines with the same mission, now Microsoft is giving users an opportunity to control Flash content that loads with the website on Edge. As users can control Flash on Microsoft Edge, they can decide whether certain Flash-based ads will run or not; and even the Flash-based websites.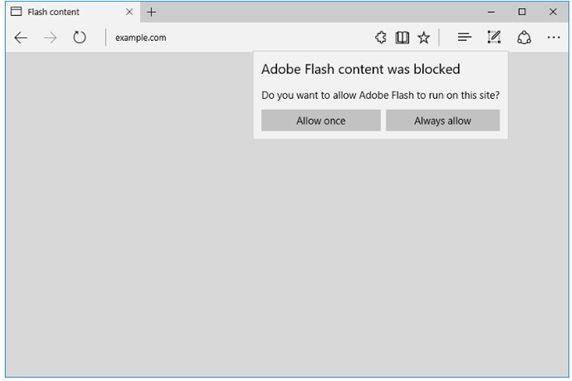 Microsoft started letting users control Flash on Microsoft Edge starting from the Anniversary Edition of Windows 10. At the beginning, users were able to control Flash by selectively pausing certain Flash content, like ads, that were not central to the page.
Moving further in this process of discarding Flash altogether, Microsoft is allowing users to control Flash websites as well. This extended functionality will be implanted through Windows Insiders preview builds that are coming soon. Through this, Microsoft is encouraging the transition from Flash to HTML5 alternatives by providing additional user control over when Flash content loads.
What website owners must know is that the sites supporting HTML5 will default to a clean HTML5 experience. In these cases, Flash will not even be loaded, improving performance, battery life, and security. However, for the websites that depend on Flash completely, users can decide whether they want Flash to load and run. Moreover, Microsoft Edge will remember this preference for subsequent visits.
Despite letting users control Flash on Microsoft Edge, these changes initially will not affect the most popular sites which rely on Flash today. To have a smooth transition to HTML5, Microsoft mentioned,
"In the coming months, we will actively monitor Flash consumption in Microsoft Edge and will gradually shorten the list of automatic exceptions. At the end of this process, users will remain in control, and will be able to choose Flash for any site they visit."
Since now users can control Flash on Microsoft Edge now, web developers are advised to migrate to standardized content delivery mechanisms like JavaScript and HTML5 Encrypted Media Extensions, Media Source Extensions, Canvas, Web Audio, and RTC in the coming months.