On June 25, 2015, Microsoft announced an update for Office 365 users. According to this new update, the Office 365 Store will also host third-party apps along with its first-party apps. And users will be able to access those with just one click! Users will be able to launch external web applications with a single click with no need of any additional sign-in steps or admin configuration. This will make access extremely easy for the users.

The new features of Office 365 Store
Office 365 app was launched in October 2014. Ever since its launch various features were introduced into it.; Office 365 Store is one of those. Now, along with the Windows apps, Office 365 Store also features third-party apps for its users.
When the app launch icon is clicked, the user can see the special version of Office 365 Store. Various applications registered in it are displayed as follows: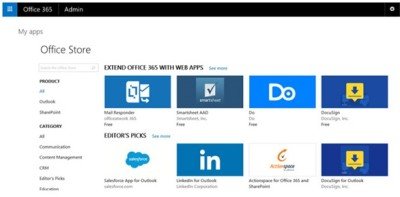 Microsoft mentions the various features of Office 365 Store in its blog on Office 365,
"You can add these third-party solutions to your My Apps page with three clicks, which includes granting the app access to specified Office 365 data. Once loaded into My Apps, solutions can then be "promoted" to the app launcher simply by clicking the ellipsis next to the target app tile and "pinning" the app to the launcher. From there, you can launch any of these apps with no further sign in—existing Office 365 credentials do the job! You can also unpin or even remove apps you no longer need."
Microsoft is working on making various partners for the Office 365 Store and one can expect to see new apps there, very soon.