Valve's founder Gabe Newell made some faces frown after he made a comment last year about Microsoft's latest OS release Windows 8, referring it as a 'catastrophe'. He has again followed the same path and chastised Windows 8 one more time.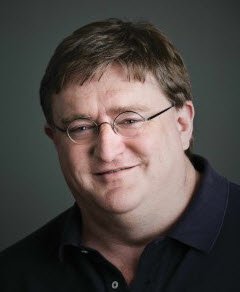 In a recent interview at CES 2013, Newell called Windows 8 "a giant sadness" and regarded it as one of the reasons for the decline (20%) in PC sales. He made the following statement:
"The thing about Windows 8 wasn't just [Microsoft's] distribution. As somebody who participates in the overall PC ecosystem, it's totally great when faster wireless networks and standards come out, or when graphics get faster. Windows 8 was like this giant sadness. It just hurts everybody in the PC business. Rather than everybody being all excited to go buy a new PC, buying new software to run on it, we've had a 20+ percent decline in PC sales — it's like "holy cow that's not what the new generation of the operating system is supposed to do." There's supposed to be a 40 percent uptake, not a 20 percent decline, so that's what really scares me. When I started using it I was like "oh my god… I find [Windows 8] unusable."
Gabe Newell also discussed in detail about Valve's hardware plans, including their own "Steam Box" PC plans, but made clear that its version of the computer would not be running Windows but Linux. "That it be a Linux box, [and] if you want to install Windows you can.", he told Verge. Among other topics, Newell talked about biometric control setups, and the changes to Valve's game design structure.