The favorite video-sharing app, Vine has received an update and brings along with it some pretty awesome new features for Windows Phone users. Last month, the creators of Vine received feedback from their users, to incorporate support for uploading videos directly from the camera roll. The team has tried this time to fulfill the demands of their users and to deliver them, a better experience with this new update.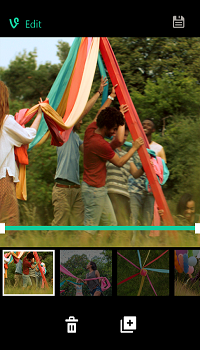 Windows Phone owners, We've got a huge Vine update for you. The latest version of the app, available today for Windows 8.1, introduces a bunch of features you've been patiently waiting for, says the announcement.
Vine for Windows Phone
The new features that have been incorporated are:

Upload or import videos straight from your camera roll by just tapping the newly added icon in the bottom left corner of the app.
Edit your existing clips by rearranging multiple clips or even deleting the unwanted ones in order to create your desired Vine.
Allows to save drafts for future use and modifications.
Customize your profile with colors that reflects your personality. You have to choose simply your favorite color from the Settings to give a new tint to your profile.
Start sharing texts and videos privately with friends and family via Vine Messages (or VMs). Check out the new Messages icon at the top right to send your first VM in private.
The redesigned activity feed now enables the users to stay easily updated with the activities in their vicinity. It includes new milestones with more visual and concise notifications about new followers.
Easy to check the number of people who have watched your Vine (on Vine, Twitter, etc.) with the help of the Loop counts.
The latest version of Vine app for Windows Phone devices is available for download here.