Any project is incomplete without Visio diagrams. It could be the flow chart or a process diagram or a pie chart; Visio helps us to put across any information in the graphical form. However these days, we need to access this information when on the move. With new features in Visio, it is possible to access Visio diagrams online. The new feature is called as Visio Online.
Visio Online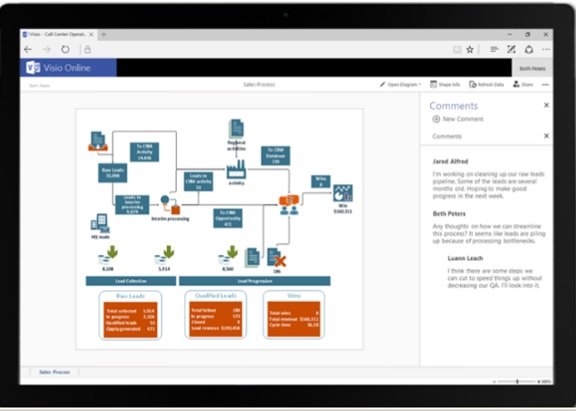 The Visio team recently mentioned about this new feature on Office Blogs. The team said,
"…we're excited to announce Microsoft Visio Online, which enables users to share and view Visio diagrams in high fidelity from almost any device using their favorite browser. Today, Visio Online opens the online viewing experience to almost all Office 365 commercial users, boosting productivity for everyone on your team, no matter where they're working."
In addition to the online viewing feature, the Visio team has also released JavaScript APIs for the IT professionals. This will enable the IT professionals to extend Visio capabilities that meet certain user needs.
This is not the first time that Visio team has come up with new features for Microsoft Visio tool. The latest features have ensured that Visio can be accessed online, just like MS Word and Excel. Visio team had published the Visio Online preview in November 2016. It was meant for the Office 365 users and based on their feedback, Visio Online was modified.
With Visio Online, you will be able to open VSD files. Apart from this, there will be 'commenting' section on the tool, which will help you and your team to review and discuss the Visio diagram. Due to this feature, you or your team won't need to switch windows.
The new feature of online viewing on Visio is currently available to the various Office 365 commercial subscriptions, such as Office 365 Business, Office 365 Government E1, Office 365 Business Essentials, Office 365 Government E3, Office 365 Business Premium, Office 365 Government E5 and more.
To start with Visio Online, you have to sign in the tool. Then upload a Visio file (.vsdx, .vsd, and .vsdm formats) to either OneDrive for Business or to a document library in SharePoint Online. Whenever you click any file, it will open in a new browser tab using Visio Online. When you share a link to a diagram with anyone in your organization, they will be able to review the diagram and add comments directly in the browser.
To know more about this amazing and highly useful feature of Visio, read it on Office Blogs.