The latest news on Twitter confirms that Visual studio, a free IDE for creating modern applications for Android, iOS, Windows, is now available on Microsoft Store in Windows 11.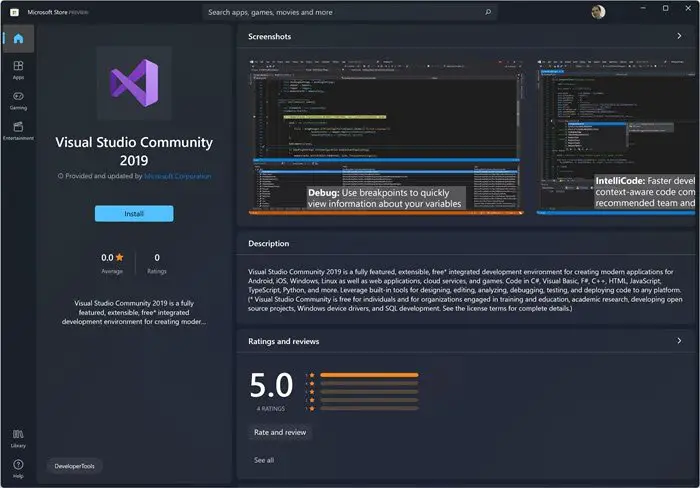 Visual Studio finally shows up on the Microsoft Store
Visual Studio Dev tools & services make app development easy for any platform & language. The software program is designed for developers who intend to write build and debug or edit their code.
The objective behind every app store is to establish itself as a credible source where users can find all the apps they need. Unfortunately, Microsoft had fallen short in meeting developers' expectations and unleashing the full potential of its app store. However, this scenario is likely to change with the entry of the Windows 11 ecosystem. You can get Visual Studio Code and Visual Studio Community from the Microsoft Store on the next-generation OS.
Welcome VisualStudio Community 2019 and*Visual Studio to the new Windows Store! Both FREE and available to Windows Insiders right now, mentions this tweet by Scott Hanselman from Microsoft.
The availability of it in Microsoft Store hints, the company is giving Microsoft Store all the required attention in Windows 11. Earlier, things were a bit different. Developers had to build a completely new app to get it in the Windows Store. This was tedious and no one was rewriting their apps to get on an immature platform like the Windows Store.
However, Microsoft always wanted to make its Store the best place for users to find apps and encourage developers to acquire new customers, generate revenue and thus, find success in the Store.
The fully-featured, extensible, free IDE for creating modern applications is free and available to Windows Insiders right now! If you are interested in publishing your Win32 App, try it today!