Focusing on 'Internet for Everyone' Vivaldi has come up with the latest version of its web browser. Vivaldi 1.11 comes with a brand new icon, many new features, and improved functionality.
Launching the improved version of Vivaldi, Jon von Tetzchner, CEO at Vivaldi Technologies said, "We at Vivaldi strive to make the Internet accessible for all by building a browser that adapts to the user. Catering for individual requirements is at the heart of our efforts."
Vivaldi 1.11 Features
Advanced Reader Mode is the first new feature mentioned on the official launch post where the readers will now get a neat and clutter free reading experience. Vivaldi 1.11 lets the users enable Reader Mode from their browser settings. The Reader Mode further lets the user select a light or dark background, font type, and the text size. Some new themes with minimal contrasts are also introduced in Vivaldi 1.11 so as to help the readers with visual impairments.

Vivaldi also adds a feature of turning Off the GIF animations in its new version. So, the people who don't like the annoying flashing images on their browser can actually turn it off easily from the Toggle Images icon in the Status Bar.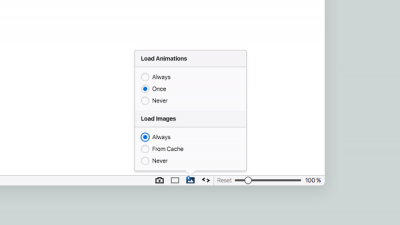 Next feature added in the latest version of Vivaldi is the Adjustable Mouse Gesture sensitivity, where users can execute a command with a very simple and small movement of their mouse. Furthermore, the users now get more control over their mouse and can set their own stroke length as per their convenience.
Other salient features of Vivaldi 1.11 include Spatial navigation, Quick Commands and keyboard shortcuts and the ability to Zoom the selected web pages.
So, if you are a Vivaldi fan, download the latest Vivaldi 1.11 version now, and if you haven't yet started using Vivaldi, it's the right time to give it a try.