Vivaldi has become the first browser to take tab management to another level, courtesy of Two-level Tab Stacks. Starting Vivaldi 3.6, the Chromium-based browser will have a second tab bar. As a result, users can work with as many tabs as they want under one parent tab.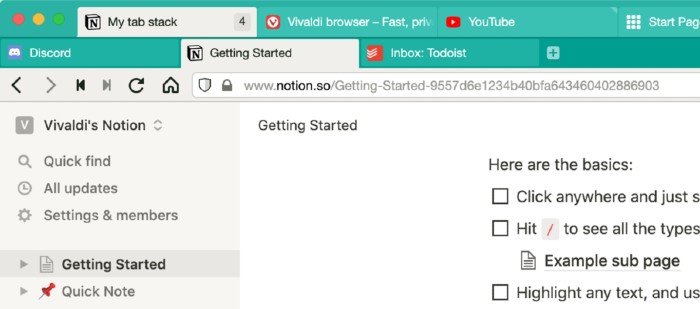 Vivaldi two-level tab stacking
Vivaldi says that the feature would make it easy to manage tabs on desktop and notebook devices. According to Vivaldi, the new feature will help those who want to manage too many tabs at once. A user can now create a major Tab Stack for a single project and place all the different webpages for the project on the second level of tabs.
The browser has introduced some ways to intuitively manage and display the massive amount of tabs as well. For instance, clicking on a Tab Stack will show you all the different tabs in that specific stack. This way, you can arrange hundreds of browser tabs without losing your mind.
Besides, when there are too many tabs on a browser, you can choose the vertical view mode to manage them better. Vivaldi has introduced the second level of tabs feature with some general upgrades to the User Interface. Therefore, the feature isn't gimmicky.
"With Vivaldi's tab management you can handle an extraordinary amount of information while staying organized," says Vivaldi CEO Jon von Tetzchner. "Two-Level Tab Stacks is an example of how we innovate for the people who have put their trust in us. They deserve it."
Understanding that not everyone wants the feature, Vivaldi has arranged an option to choose between Tab Stacking, Two-level tab-stacking, and no Tab Stacking from the menu. There is also an option to use a compact display style for convenience.
Vivaldi says that this new feature would work hand in hand with Tab Tiling, Vertical Tabs, and Auto Stacking to give users a premium tab-management experience. Undoubtedly, this feature will help those who always have too many browser tabs on their screen.
However, it needs to be seen whether Vivaldi can optimize the system resource consumption to ensure that the web browser can handle these many tabs. If it can, the second level of tabs will be another reason to move from Chrome to Vivaldi.
Vivaldi has introduced many innovative features, such as Tab Stacks and built-in tools in the past.