Norway-based Vivaldi Technologies has released a new Vivaldi desktop web browser version 3.1. The newest version of the Vivaldi browser is now available to download on Windows, macOS, and Linux platforms. The company provides desktop users with a new built-in Notes manager, configurable menus, and more. Let's see what's new with Vivaldi 3.1.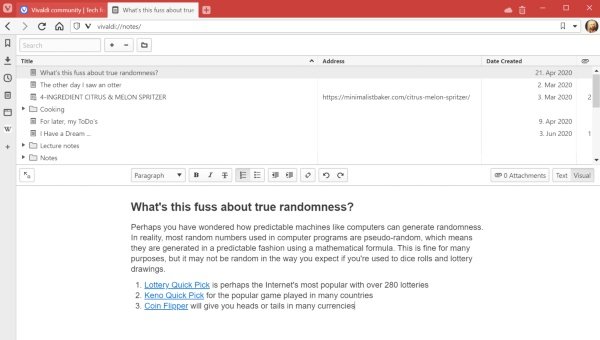 Vivaldi 3.1 now available to download
In what appears to be a much-needed upgrade to the Notes feature, the latest version of the Vivaldi desktop browser comes with a full-page built-in Notes manager. Plus, Vivaldi also brings highly-requested configurable menus. Above all, it also promises certain speed improvements.
Vivaldi is known for its customizability. Well, the also same holds true for Vivaldi version 3.1 and its features. Commenting on the announcement, Jon von Tetzchner, CEO of Vivaldi, said:
"Our principle is that everyone deserves a browser that can be adapted to their way of working. We build features that fit in different workflows and cater to different needs."
New built-in Notes Manager
Vivaldi's Notes feature allows users to note down important things in the browser's sidebar. Plus, it supports the Markdown syntax and can also attach screenshots and the URL of the web page being viewed.
In the new Vivaldi version 3.1, the Notes feature has been evolved into a whole new avatar in the form of Notes Manager, which supports visual editing, more like a word processing application.
The Notes Manager feature is accessible from the Start Page and users can easily view note title, creation date, number of attachments, etc. The Notes Manager is accessible at vivaldi://notes/
Following are highlights of the all-new Notes Manager in Vivaldi 3.1:
It supports the complete formatting of text including hyperlinking and Markdown formatting.
Users can find certain text inside a particular note using the Ctrl+F command.
It supports both Undo (Ctrl+Z) and Redo (Ctrl+Y) functions.
A character and word count is displayed at the end of the note.
Images can be added from the right end of the toolbar.
Notes can be edited in a full-screen view
The detailed notes tree view can be sorted by note title, content, creation date, etc.
New notes can be added from a webpage selection via the context menu
New notes can be organized into folders.
It allows searching through notes with a full-text search box right at the top.
Notes can be synchronized across devices.
New Configurable Menus
The all-new Vivaldi 3.1 also brings Configurable Menus for quicker access to frequent actions. Interestingly, users can also add items to configurable menus that are not accessible from the main menu. If you want to use configurable menus, navigate to Settings > Appearance > Menu.