After months of waiting, Vivaldi 1.0 is here and we have to say, it is a significant improvement over the beta builds. The browser is much smoother and has less bugs for us to worry about while browsing our favorite websites.
For those who are unaware, Vivaldi is a web browser from former employees of Opera Software, so that's why there are many similarities, but that's not a bad thing. The developers pride themselves of adding features instead of stripping them away, a clear shot at the newest version of the Opera browser.
Vivaldi browser stable version released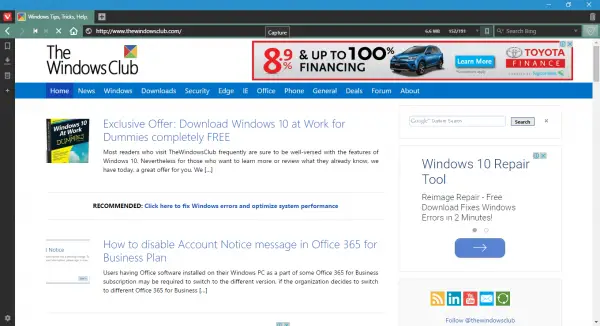 Folks who enjoyed the deep customization abilities of the original Opera web browser will likely fall in love with Vivaldi because most of those features have been incorporated. This is definitely a web browser for the novice and for the advanced user, and seeing as it plays well with the Google Chrome extension store, users can install all their favorite extensions right away.
Jon von Tetzchner, CEO, Vivaldi, says the browser is both a throwback to the past and a look to the future, and we agree. He also spoke to us about browsers with the ad-blocking features built-in, and why such a system was not put in place where Vivaldi is concerned.
"We are on the side of the user, and many users want to block ads. At the same time, if we take away the ad-funded models, we will see more paywalls and less content freely available for everyone. That's much worse, in my opinion. Right now users have the option of installing ad blocking add-ons in Vivaldi. That's great and we want everyone to use the browser as they wish. At the same time, we don't want to stifle the revenues of small, up-and-coming content creators. We want to ensure they have easy ways to be rewarded for creating great, compelling content."
Here are some of the cool features Vivaldi has brought to the table:
Tab Stacks
Tab Stack Tiling
Sessions
Notes
Quick commands
Mouse gestures and keyboard shortcuts
Speed Dial:
Better bookmarks
Web Panels
Personalized
Do read our Vivaldi browser review for full details.