It seems that Microsoft has started pushing advertisements for Windows 10 users on the Lock Screen along with a link, provided they have enabled the Windows Spotlight feature. Microsoft has been in for flak after it tried to force its users to update their machines to Windows 10. The update prompt kept popping up every now and then and it was devoid of a "No" option. Now this latest attempt to push ads, is something that ay not go down too well.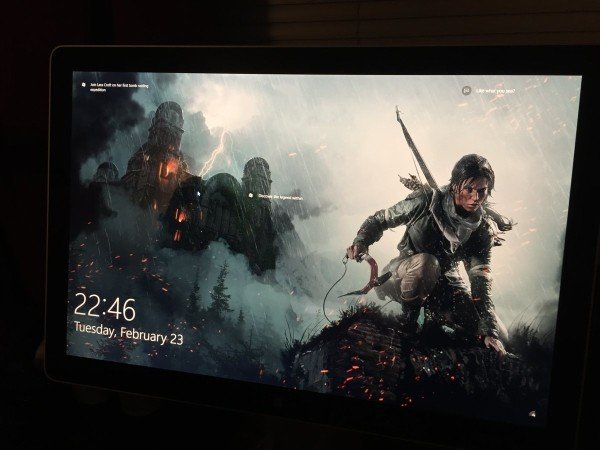 Windows 10 Lock Screen displaying ads
As all of us might be aware that Windows 10 comes with a lock screen that randomly chooses wallpapers, but now it seems that if you have opted for the Spotlight feature, the lock screen will display ads to the user.
A Windows 10 user tweeted as to how he was treated to a Tomb Raider advert on his lock screen.
When you're angry at Mac OS, be thankful that it isn't shoving a Tomb Raider ad in your face. Thanks, Windows 10!
It is pretty clear that Microsoft has chosen to monetize 'the free upgrade' by forcefully pushing in ads on the Lock Screen.
The Windows 10's Spotlight feature is expected to show legit and eye grabbing photographs across your lock screen, but the very fact that nearly 200 Million devices are running Windows 10 means that it can become a great source of revenue for Microsoft.
Tomb Raider has been up on the Windows Store last month and the lock screen ad also comes with a link to the same. While lock screen ads are not something entirely new and Kindle has been selling subsidized ad versions since long, this is something new however for the Windows user who has not seen the operating system push ads.
The Spotlight feature will usually tweak itself if you hit "Like" on some of the lock screen images and all of the pictures will be sourced from Bing.
Turn off the Windows 10 lock screen ads
If you are seeing these ads and want to stop them, you can disable these Lock Screen Ads.
Now these happenings have begun to raise clouds of doubt on the 'price' users have to pay for the free Windows 10 and the very question that – is it still really completely free?