There is something new and interesting about Microsoft Teams since the beginning of 2022, and that is the addition of the Walkie Talkie app. It's a tool designed to provide instant push-to-talk communication for your organization. The app is now available for the Android and iOS versions of Microsoft Teams, and that's a good thing.
If you are a member of the same channels as the rest of your team, then you should have zero issues with using the Walkie Talkie app to connect with all. However, please bear in mind that only the users who have connected to Walkie Talkie will be able to communicate using the tool.
Microsoft is hoping the Walkie Talkie app will aid frontline workers in communicating with others in a familiar PTT experience. If this is successful, then folks won't have to walk around with heavy radios, but it all depends on the situation. Walkie talkie radios are still superior due to the reliance on radio waves rather than the internet.
How to deploy Walkie Talkie app in Microsoft Teams?
The software giant has stated that the Walkie Talkie app is not enabled by default, therefore, you will be required to manually add the feature to the App Setup Policy designated to all users from the Teams Admin Center.
Now, once the app is enabled, it should become available for use within a 48-hour period.
How to add Walkie Talkie to your app list?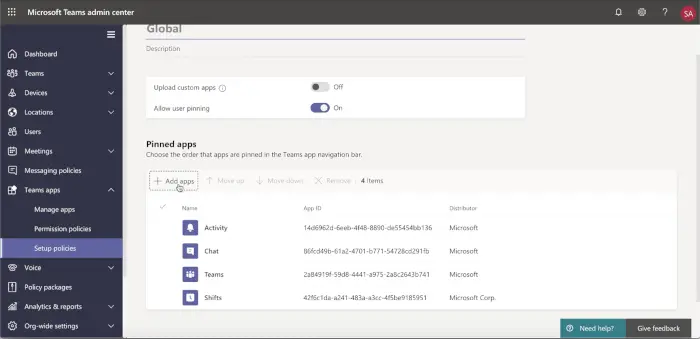 Getting this done is very easy. All you have to do is open Microsoft Teams then under Teams app > Setup policies, you should have Allow user pinning set to On. Now, under the Pinned Apps area, click on +Add Apps.
From the Add pinned apps section that shows up on the right, you should use the Search textbox to look for the Walkie Talkie app. When you have located it from the search result, click on the Add button from the right in order to add it to your list.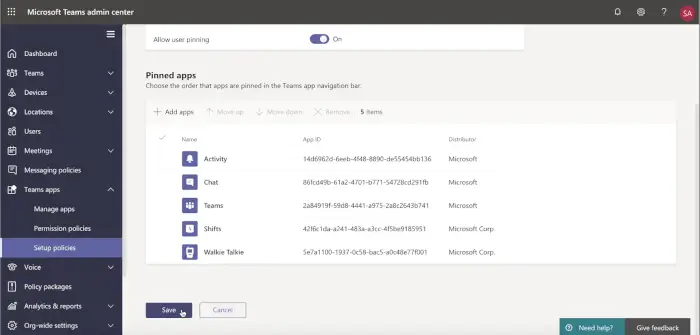 At this point, the Walkie Talkie app should now be visible via the Pinned Apps list, and finally, be available for use. Finally, hit the Save button to complete, and that's it.
Here is a list of Walkie Talkie devices you should consider
Headsets

Wireless headsets (iOS & Android)
Wired headsets (Android only)

Rugged Android phones

Samsung Galaxy XCover Pro, Galaxy XCover 5, Galaxy Tab Active 3

Manual setup – With Teams installed, navigate to Settings > Advanced Features > XCover/Active key. Turn on 'Control XCover key with app' and select 'Teams'
MDM setup

Zebra TC5x, TC7x, TC2x, EC5x, EC30, MC3300, MC9300

Manual setup – With Teams installed, the dedicated PTT button (LEFT_TRIGGER_2) works with Walkie-Talkie by default
Let us know your thoughts in the comment section.