Wayback Machine is an online service that archives websites, pages, documents, and many other things. If you ever wanted to see how a website looked when it was a couple of years of months back, then this is where you should go and check. They offer a Save Page on their website, which can be used by anyone to save a webpage online or via uploading.  Using this feature, you can save a web page as proof that it appeared first on the Internet.
This Save Page has got a significant overhaul. Here is the list of New Wayback Machine Save Page Features.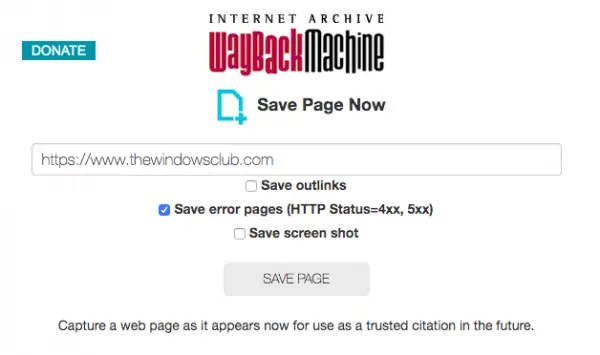 Wayback Machine rolls out new Save Page
These are some of the significant features now available with Save Page. If you need to save pages often, these are going to save a lot of time for you:
Save all the outlinks
Screenshot
Archive web pages linked from an email
Wayback Machine leader board
Embedded URL in documents
Archive URLs from a Google Sheet.
These updates are being rolled out to extensions and apps, as well.
1] Save all the outlinks
When saving a link, you can check the box which says Outlinks. It will then save the requested page and all the linked pages, including embedded resources.  Save Page programming is such that it can build high-quality archives of web page elements, which include Javascript, Image, etc.
2] Screenshot
SPN or Save Page now can also produce a screenshot. As it saves the pages, it also generates Screenshots for each of them. The icons are disabled for the corresponding playback pages, and if selected, the screenshot will be shown.
3] Archive web pages linked from an email

Those who want to save time should use this feature. Arrange a set of links, and send them to [email protected] over email. After a few minutes, you will get an email backfilled with Wayback Machine playback URLs.  Even if you don't arrange, you can forward an existing email with links, and it will parse all of them.
4] Wayback Machine leader board
Those who feel enthusiastic, Game mode is on with Wayback Machine. If you save a page for the first time, you will get points. More on this is coming soon, but for the first-timers, some of you might like the new "First capture" badge
5] Embedded URL in documents
Have a document that has a lot of links? Similar to saving a webpage, upload the document to the Wayback Machine with save all the outlinks option, and it will save all the URLs available in that document. It works with RSS or JSON URLs as well.
6] Archive URLs from a Google Sheet
Right now it is invite-only, but this is an excellent feature. It is available for authorized users. Please write to them for access to this advanced capability at [email protected].
Overall a massive upgrade in terms of features!
PS: WayBack Machine offers a Chrome extension too!