Microsoft will be launching a new update package for Windows 10 and Windows Server later this year, Maliha Qureshi from Microsoft tech community confirmed via a blog post. As per the blog post, Microsoft is working on reducing the size of the updates and bringing you more compact updates to ease the burden on IT administrators.
The new design creates a compact update package for faster deployment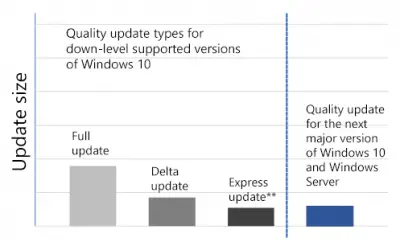 Termed as Windows 10 quality updates, these updates will be cumulative and will include all the fixes released previously. Furthermore, the company will not be releasing the delta updates for all Windows 10 versions from February 12, 2019. However, Microsoft will keep providing the express updates along with the full updates for the down-level supported versions of Windows 10 each month. This new update will be named as Latest Cumulative Update or LCU.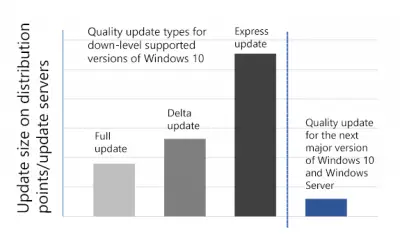 So, henceforth, there will be only one quality update type which will be simpler to deploy, smaller in size and will offer benefits over the existing update types.
These smaller sized updates will help the organizations save their network bandwidth, especially the ones who get the full updates from WSUS (Windows Server Update Services)
No more check over the delta updates for the eligibility. Organizations won't need to use the delta updates to manage the size of full quality updates.
Microsoft will make this new quality update package redistributable so that the organizations' using the express updates via WSUS can save their network bandwidth enormously. The organizations using the updates via third-party management solution or via System Center Configuration Manager (SCCM) will also be able to save their bandwidth significantly.
Regarding the distribution of the new Quality Updates, Qureshi writes in his blog that-
"Quality updates packaged using this new design will be distributed over Windows Update (WU) and WSUS in a cabinet (.cab) file and available as downloadable Update Standalone Installer (.msu) files from the Microsoft Update Catalog. Devices managed by Microsoft Intune, and third-party mobile device management (MDM) solutions, as well as on-premises management solutions that get updates from WSUS or the Microsoft Update Catalog, will all have access to this new quality update design".
Microsoft will deliver the quality updates in same update package design to the devices connected directly to Windows Update.
All the monthly quality update releases like 'B', 'C' and 'D' releases will undergo the new change in approach.