Disney's iconic cartoon character, Mickey mouse will come to life once again. Walt Disney has made the game available for phones and tablet devices. Yes, Where's My Mickey game has finally landed to Microsoft's Windows 8 OS as an app with some exclusive content.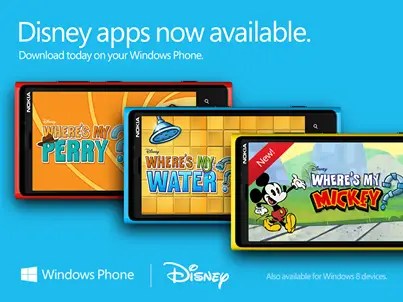 Where's My Mickey app for Windows Phone
In this new app, kids solve water-based puzzles to help their favorite cartoon character – either Mickey or Goofy. Mickey lovers have to puzzle through 60 levels spread over three different worlds. Each world begins with an original animated short cartoon that gives a preview of what the player needs to do. It, then, immediately drops you In the first world, called "When Life Gives You Lemons," where Mickey needs your help to find water so he can make some lemonade at his beach stand.
You can use your fingers on touch-screen devices to clear paths through the sand and use of brand new weather mechanics (like wind and rain), sand and long water hoses to navigate around. Upon completing each level, you help Mickey achieve his goal that is later followed by another mini animation clip and new world. Tablet users, who pay more, get an additional 20 levels where Mickey is in outer space.
The game in addition to mechanics, features some classic cartoon graphics, sounds, and music as well as Game Center achievements.
Download the app from the Windows Store for $0.99 only.