A major flaw named KRACK has exposed weaknesses in WiFi networks around the world. The attacks have been successful against all devices but notably against Android devices. The flaw affects the WPA2 protocol itself and is not specific to any software or hardware product. Mathy Vanhoef, the researcher who found it has named it KRACK which stands for Key Reinstallation Attack.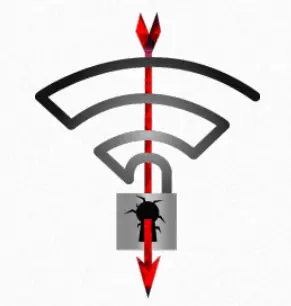 KRACK WiFi security flaw
University of Surrey Prof Alan Woodward said:
"This is a flaw in the standard, so potentially there is a high risk to every single wi-fi connection out there, corporate and domestic."
US-Cert has issued a warning:
US-Cert has become aware of several key management vulnerabilities in the four-way handshake of wi-fi protected access II (WPA2) security protocol.
Microsoft's official response was,
"The Microsoft Security Response Center (MSRC) investigates all reports of security vulnerabilities affecting Microsoft products and services, and provides the information here as part of the ongoing effort to help you manage security risks and help keep your systems protected."
Microsoft has fixed the KRACK vulns in the October 10th Patch Tuesday.
A spoofing vulnerability exists in the Windows implementation of wireless networking. An attacker who successfully exploited this vulnerability could potentially replay broadcast and/or multicast traffic to hosts on a WPA or WPA 2-protected wireless network. Multiple conditions would need to be met in order for an attacker to exploit the vulnerability – the attacker would need to be within the physical proximity of the targeted user, and the user's computer would need to have wireless networking enabled. The attacker would then need to execute a Man-in-the-middle (MitM) attack to intercept traffic between the target computer and wireless access point. The security update addresses the vulnerability by changing how Windows verifies wireless group key handshakes.
Industry body, The WiFi Alliance, is working with the key players in the industry to support them in updating routers around the world. With so many devices to patch it is likely that many systems will be compromised. If you are worried, it may be prudent to contact your router manufacturer to see if there's an update, as it is imperative that you secure your WiFi connection.
The worrying turn is just how many devices could be potentially affected by the vulnerability which extends to almost all routers and will be there until patches are applied.
The continual worries over internet safety will continue to grow as tech companies struggle to keep up with the constant attempts to overthrow their technology by people intending to do bad. This is yet another example of why it is important to keep your PC & firmware updated and secure it to the maximum amount possible to ward off potential vulnerabilities in the system.
More information on this can be found on krackattacks.com.
BleepingComputer has compiled a list of Firmware & Driver Updates for KRACK WPA2 Vulnerability. If one exists for your device, you need to install it as soon as possible.