Microsoft has released a new app called as Windows 1.11 on its Store promising users that it takes them back to the year 1985 – the year when the company released the first Windows version. The app hands you tasks to save Hawkins, Indiana (and the world) by exploring into computer files made to look like a computer screen you might have seen in the mid-80s.
Windows 1.11, though is not just another app, and shares its connection with American science fiction-horror web television series, Stranger Things 3. The web series is set in the year 1985, the same year that Microsoft released Windows 1.0.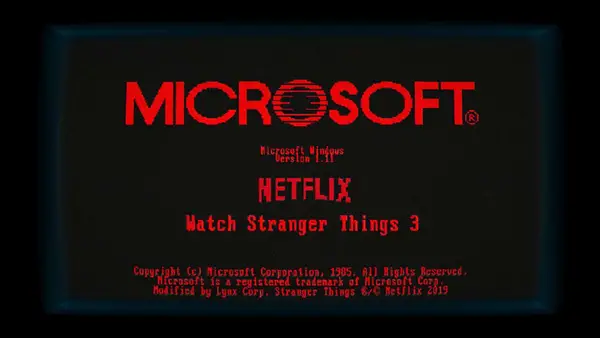 Microsoft came out with a full description of the App, that includes games, puzzles, photos, and videos relevant to Stranger Things 3, including some content you might not actually see while watching the eight episodes of season 3,
Experience 1985 nostalgia with a special edition Windows 10 PC app inspired by Windows 1.0—but one that's been taken over by the Upside Down from Stranger Things.

Explore the mysteries and secrets plaguing Hawkins, unlock unique show content and easter eggs, and play retro games and puzzles—all building off Stranger Things 3. Join Eleven, Steve, Dustin and gang as they seek to save Hawkins and the world. Embrace the 80s and grab your hairspray, because it's basically the raddest show companion experience ever. But fair warning: beware the Mind Flayer.
Windows 1.11 app – It is more than just the Netflix show
It's true that the Windows 1.11 app isn't just a way to relive mid-1980s computing since it is part of a collaboration with Netflix in support of Stranger Things, which just released its third seasons, it does have its own fun elements too.
Windows 1.11 looks to have been inspired by the Upside Down and like Dustin, Lucas, and the rest of the gang from Hawkins, Indiana, it asks you to solve puzzles in an attempt to save the town from that realm's foul beasts. Apart from 1980s-era puzzles and video games, Windows 1.11 also has a side-scrolling driving game in which a monster is chasing your wood-paneled station wagon
Functionally, Windows 1.11 does not throw up any challenges to operate except that it can be used only on Windows 10. It does not require any command-line interface, and you can navigate with your mouse or trackpad (The only exception is that your mouse's scroll wheel will not function in the app).
While Windows 1.11 takes you on an adventure journey, this app also treats you with clips from Stranger Things 3.
Some of you might want to take a look at this Windows 1.0 theme too.