The feedback Microsoft received from original equipment manufacturers, enterprises, and others helped it develop a better version of Windows 10 – Anniversary Update v1607. The same version has now graduated to the Current Branch for Business (CBB), and is now ready for business deployment.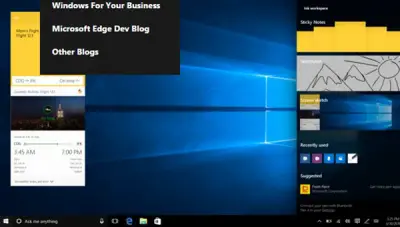 Windows 10 v1607 for CBB
Current Branch for Business (CBB) is the type of service model that is used for a broader deployment. It is developed and modified by Microsoft based on the customer's need and preferences.
The detailed description of the update offered is rather complicated for a layman to understand however, tidbits of it can be understood from the small description below. For reading the complete summary, you can visit the TechNet page (the link is given at the end of the article).
Today I am pleased to announce that Windows 10 1607, also known as the Windows 10 Anniversary Update, has been declared as Current Branch for Business (CBB) and is ready for deployment. This is an important milestone and signifies that this version has been validated by customers, OEMs and partners giving organizations the confidence to further accelerate deployments at scale.

To reach this milestone, we have addressed nearly a thousand items of feedback from all types of customers, including enterprises performing pilot deployments. With hundreds of millions of devices already running the CBB version 14393.447 installed by KB 3200970 or any later update, as indicated in the Windows 10 Release Info page, organizations can be assured Windows 10 1607 is fully ready for them", writes Michael Niehaus of Microsoft.
Microsoft had first released Anniversary Update on August 2. It plans to launch updated version of the same, Creators Update (Redstone 2) next year. The upcoming build will specifically focus on creating 3D content, and will serve as a launching pad for virtual reality headsets.