Few days ago, citing incompatibility issues, Microsoft announced devices with old Realtek Bluetooth radios would not be offered Windows 10 v1909. Now, the company says PCs running outdated Avast & AVG versions too will be included in this scheme.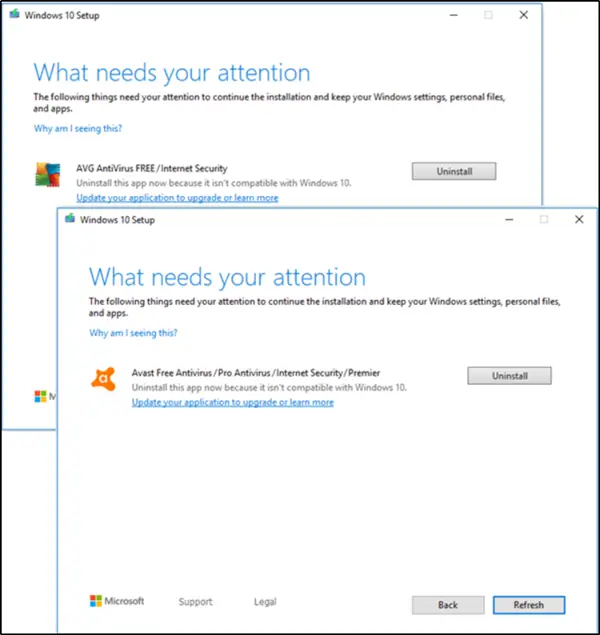 Windows 10 v1909 for outdated Avast & AVG placed on hold
Microsoft was quick to identify issues with Antivirus software and take the necessary action by locking certain PCs from updating to Windows 10 v1909 Update, running both, paid and free versions of old AVG and Avast antiviruses.
On its release information page, Microsoft mentioned,
Microsoft and Avast has identified compatibility issues with some versions of Avast Antivirus and AVG Antivirus. Any application from Avast or AVG that contains Antivirus version 19.5.4444.567 or earlier is affected.

To safeguard your upgrade experience, we have applied a hold on devices with affected Avast and AVG Antivirus from being offered or installing Windows 10, version 1903 or Windows 10, version 1909, until the application is updated.
The platforms affected by the compatibility issue include
Client: Windows 10 v1909; Windows 10 v1903
Server: Windows Server v1909; Windows Server v1903
The simplest way to avoid this trouble is to download and install the latest version of Avast or AVG application, before updating to Windows 10 v1909. Also, one should not try to manually update the Windows using the 'Update Now' button or the 'Media Creation Tool' until a new version of Avast or AVG application is installed and the Windows 10 v1909 feature update has been automatically offered to you.
Avast & AVG antivirus programs provide security products to hundreds of millions of users around the world for free. Besides, it also offers robust protection against current ravaging threats like ransomware.