Microsoft wants to make Windows available to more devices but more than that it wants to minimize the trouble users experience with the updates. As such, the company decided to release just a single update every year as against twice a year, considered as a norm until now. Proceeding in this direction forward, Microsoft released Windows 10 21H2 November 2021 Update and it is now available to all.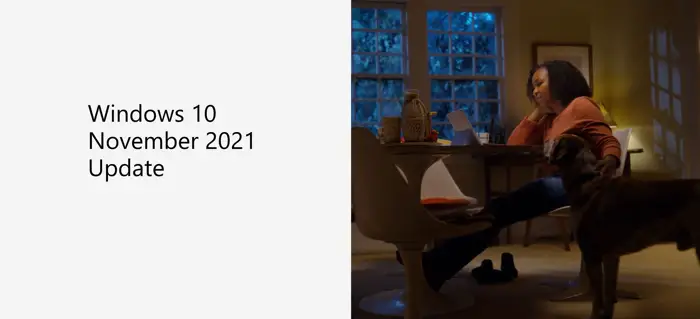 Windows 10 21H2 November 2021 Update rolled out generally
Microsoft fully understands, Windows remains critical to Microsoft's business, contributing about 13% of revenue. So, focusing on productivity, management, and security is important. However, this does not mean jamming customers' experience with updates. It is likely for this reason, the company seems to have changed its usual measured approach to the rollout.
We continue to listen to customer feedback to adapt Windows to meet your needs as part of our ongoing support for Windows 10, and have scoped the November 2021 Update to focus on productivity, management and security. Today, I'm sharing how we will deliver the November 2021 Update, how to get it, details on the revised Windows 10 update release cadence including the new Windows 10 Long-Term Servicing Channel (LTSC) edition, and some positive news on the pace of the Windows 11 rollout, wrote John Cable, Vice President, Program Management, Windows Servicing and Delivery in a blog post.
Windows 10 will now only get 1 major feature update a year
By bringing down the number of updates it rolls out in a year, Microsoft is falling in line with what's viewed as the industry standard. Its rivals like Apple issues a macOS update once a year while iOS receives just one annual update.
Having said that, it is important to note here that the update does not seem to be pushed to devices via automatic updates yet. For organizations, Windows 10 administrators who are interested in the update can upgrade their experience by going to Settings > Update & Security > Windows Update and using the "check for updates" button on the page. Windows 11 is on a similar annual schedule!
Read: How to get the Windows 10 version 21H2 November 2021 Update.