A full year has passed, and according to reports from Net Market Share, Windows 10 has managed to gain over 21.14 percent market share, but still lagging behind Windows 7, an operating system with over 47.01 percent shares. This is a big deal for Microsoft seeing as Windows 10 is growing, and could eventually overtake Windows 7 by 2017.
Windows 8.1 on the other hand, could only muster a market share of nearly 8 percent, a clear sign that this operating system was not widely adopted during its short reign. As for Windows XP, it is still ahead of Windows 8.1 with a market share of 10.34 percent.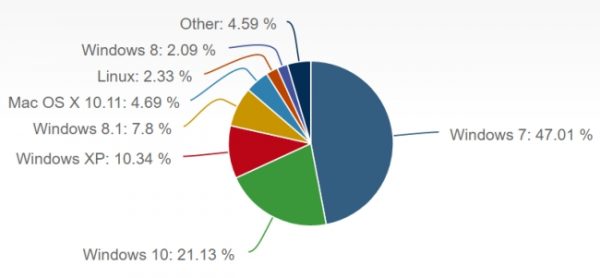 Windows 10 market share
It's going to be much difficult seeing as the free upgrade period has ended. Then again, if some Windows 7 and Windows 8.1 users wanted to upgrade, they would have done so long ago. Furthermore, we understand it is still possible to upgrade by following this simple, yet effective, trick.
Microsoft has yet to reveal the number of devices being powered by Windows 10 after the July 29, 2016, free upgrade deadline. Before, the company announced that around 350 million devices were powered by the operating system, a number that has grown since.
Microsoft, at the moment, is preparing to release the Anniversary Update set for August 2, 2016. That's the same date the 2TB Xbox One S will be officially available at retail outlets in the United States and other parts of the world. The Anniversary Update will come for Windows 10 PC and Windows 10 Mobile.
We hope the continued success of Windows 10 will see the rise of more UWP apps, but most importantly, the popular ones that are found on Android and iOS.
Source: Net Market Share.