Although, Windows 10 Creators Update is out it has been hit by few bugs. One of the few is reported to affect the performance and health of UPS-connected desktops.
Device Performance & Health issue on UPS-connected Desktops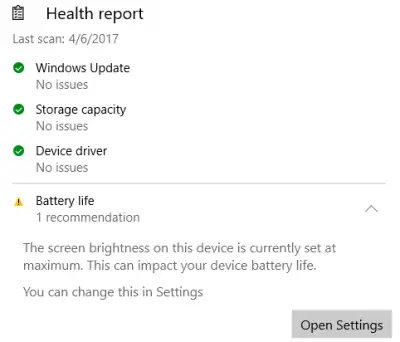 One of the Windows users who recently upgraded to the latest build of Windows – Windows 10 Creators Update posted the following complaint on the Microsoft Community page:
I've upgraded to Creators update this week. One bugging issue:
Desktop computer connected to UPS (APC, HID battery, native Win driver). Device Performance and Health complains about battery life being affected by screen brightness being set to maximum. Obviously, I cannot change it (HTPC with Nvidia ION, connected to HDMI TV) – in settings there's no such setting available:
The message displayed says:
The screen brightness on this device is currently set at maximum. This can impact your device battery life. You can change this in Settings.
The point is Desktop computers do not offer this setting!
Fortunately, Microsoft responded with a positive reply.
Thank you for bringing this up. Mentioning that your machine is a Desktop PC, surely that adjusting the screen brightness would be vague. We will surely note this on our end, so we will be able to let the engineers know.

For quicker and more personalized experience, we suggest that you try to communicate with our engineers and developers using the Feedback Hub app", wrote a Microsoft official.
If you are one of the users who has experienced the same issue on UPS-connected desktops following an upgrade to Windows 10 Creators Update, use the Feedback Hub app to provide Microsoft's engineers more details about the issue. It is a communication forum included in the Windows 10 operating system to share and discuss problems related to the OS.
See this post if Windows 10 Health Report is not available.