Microsoft released another new build of Windows 10. It released Windows 10 Insider Preview Build 14388 for both PC and Mobile to Windows Insiders in the Fast ring. Build release frequency has increased as the Anniversary update release nears by. This build has 44 new fixes which include reliability and battery life improvements.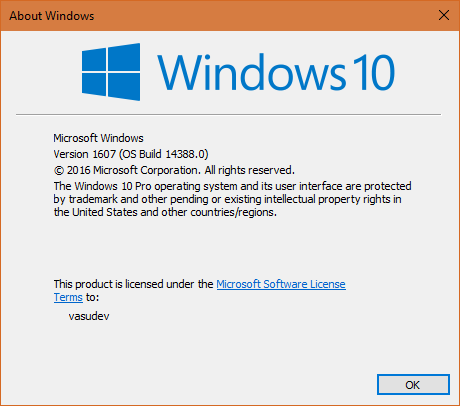 Improvements and fixes in Build 14388 for PC:
Store updated to version 11606.1001.39
Narrator keyboard shortcuts not working after locking and logging back in to your PC is fixed.
Narrator not reading date and time under Settings > Time & language > Date & Time is fixed
TPM driver crash resulting in Bluescreen and rebooting is fixed.
Improvements and fixes for Mobile:
Store updated to version 11606.1001.39
Keyboard not showing up for InPrivate mode in Microsoft Edge issue is fixed.
App after being suspended going into a state where it is unable to launch it unless rebooting the device is fixed.
Some known issues like in Mobile, Wallet users are prompted for PIN twice when using it in locked phone. Apart from this there are few other known issues which were in earlier builds too. Microsoft is working on these and will be sorted out soon as Anniversary Update nears. The team has almost got down to the wire. Might expect a build before it gets finalized.
Dona Sarkar who is at the Worldwide Partner Conference announced this new build. Dona is there to meet partners and customers to understand the needs of their businesses and brands. She also gave a talk at WPC about 41 days of her being the Insider lead and her learning as Insider lead.
To read about the known issues, visit Windows.com.