The latest major update called as Windows 10 Creators Update, will finally go live on April 11, 2017. This new update is especially targeted towards creative professionals, bringing in a lot of features like 3D design and broadcasting to all the users. These are some of the upcoming features in Windows 10 Creators Update.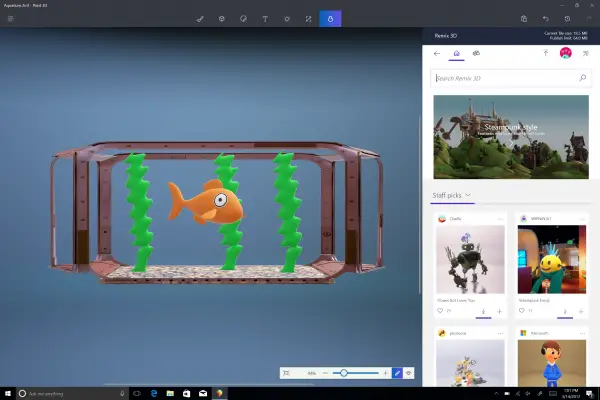 1. 3D Design with the new Paint app
With the Creators update, there is a big focus on 3D designing and creation. Windows 10 will now have the 3D Paint app, which makes it easy to create 3D objects from scratch, easily changing colors, stamping textures, or turning a 2D picture into a 3D work of art. Microsoft has also tied up with Acer, ASUS, Dell, HP, and Lenovo to develop the world's first Windows Mixed Reality-enabled headsets with the Creators Update, starting at just $299 USD.
2. Stream online with Beam
Microsoft is introducing Beam, which lets you stream gameplay and interact with your community in real-time. It uses ultra low-latency and requires no extra hardware or software to make magic happen when you are on Twitch or YouTube, showing off your dribbling skills in Rocket League. With the additional Windows 10 Game Mode, Microsoft plans to dedicate more system resources towards improving gaming performance.
3. Microsoft Edge
Windows 10's native browser, Microsoft Edge, is a worthy upgrade to the ancient Internet Explorer. With the Creators Update, Microsoft Edge is aiming to be the best browser on Windows 10. Microsoft claims that Edge blocks 9% more phishing sites and 13% more malware than Chrome. The new update brings new features like advanced tab management to help you find, organize and open tabs you've set aside without leaving the page you're on. It also makes it easy to discover and get your favorite e-books, which you can read on all your connected Windows 10 devices.
Surface Book and Surface Studio coming to more markets
Apart from the big Creators Update news, Microsoft also announced that the Surface Book and Surface Studio would be launched in more international markets, Austria, China, Denmark, Finland, France, Germany, Hong Kong, Japan, Netherlands, Norway, Sweden, Switzerland and the United Kingdom, starting April 20th.
You can read about all the features in Windows 10 Creators Update here.