Most of us have been waiting with bated breath for the Windows 10 Creators Update which will be one of the biggest Windows 10 updates this year and needless to say, will usher in a load of new features. Yes, I do know that the Windows 10 Creators Update is due to be released from a few weeks from now. That being said the Windows 10 Update is confirmed to be coming soon and the news is confirmed by none other than the Windows Update!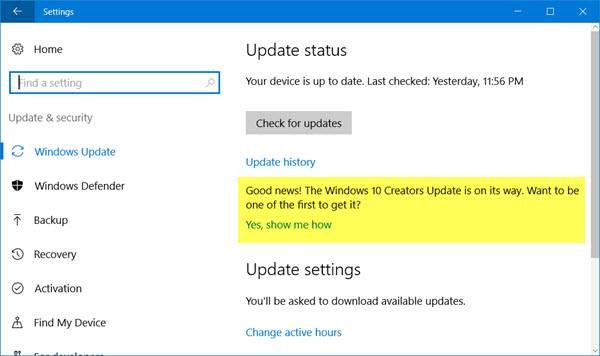 The small note was spotted after I installed a service stack update for Windows 10 version. However, it was surprising to see the Windows update showing the following news:
Good news! The Windows 10 Creators update is on its way. Want to be the first one to get it? Yes, show me how.
To see this note, from the WinX Menu, open Settings > Windows Update.
Clicking on the link opened up this page. The support page has further elaborated on how to install the update and what are the steps to be taken before installing the same.
"We're finalizing the update and will be ready to share it with you soon. When the update is ready for your device, you'll receive a notification asking you to review your privacy settings before downloading the update."
Furthermore, the page also lets you know how you can try out the Windows Creator Update right away by subscribing to the Windows Insider Program. Preview Build 15055 has already been rolled out for the Insiders on the Fast ring followed by the latest Build 15055. The Windows 10 Creators Update is expected to be released in this spring and is expected to bring about significant changes as opposed to the current Build.