Looks like things are going to get better with the Blue Screen of Death. It seems that Microsoft has decided to display a QR Code along with the Stop Error or Blue Screen in Windows 10.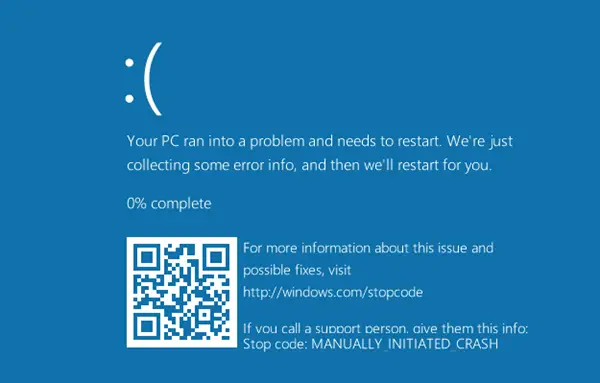 QR Codes on Blue Screens?
A Blue Screen is displayed whenever there is a system crash, a kernel error, a system fault, or a Stop Error. This condition is called a 'bug check'.
A QR code or Quick Response Code is a machine-readable optical label or matrix bar code that contains information about the item to which it is attached.
A Reddit user encountered such a Blue Screen on his PC which was running Windows 10 Build 14316.
Said javelinni, The first thing the new build did in my VM was crash, but instead of just the usual smiley I was greeted by a QR code as well. Is this a new addition to this build?
Apart from displaying the QR Code, the screen also directs the user to visit windows.com/stopcode for more information about this Stop Error. Moreover, it also recommends that users the specific Stop code to the Support person, to make things easy, should they contact one.
While I have never seen one of these, to-date, this seems to be a step in the right direction, as it is expected to make troubleshooting Stop Errors a lot easier.
Is this something new or have you seen these earlier?