Microsoft has reverted the download status of Windows 10 Feature Updates to 'No.' It applies to Windows 10 versions 2004 and 1903 after synchronizing updates released on patch Tuesday (October 13, 2020), the Redmond-based company has confirmed. Microsoft revised content for these Windows 10 Feature Updates to address a security issue CVE-2020-16908.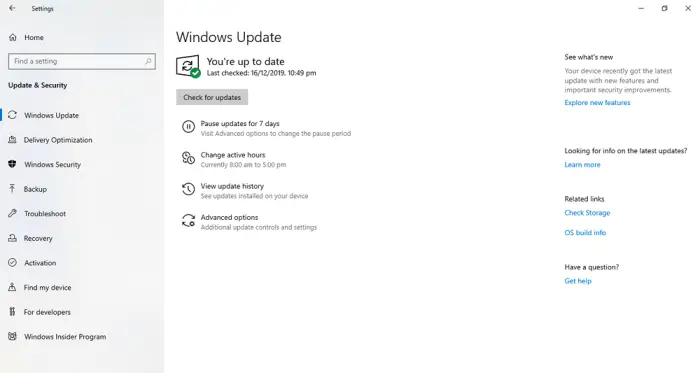 Redownload Windows 10 Features Updates
According to Microsoft Previously downloaded feature updates will need to be downloaded again.
"If you used an automatic deployment rule or servicing plan to previously deploy the feature update, it will be downloaded again at the next scheduled evaluation. If you manually deployed the feature update, you will need to manually download it again," Microsoft said.
Interestingly, computers with Windows 10 version 1903 and 2004 that have previously downloaded the feature update content to their local cache without actually installing the feature update, it will have to be downloaded again to the local cache after Microsoft is done updating distribution points.
In a relief for Windows 10 users with versions 1809 and 1909, Microsoft has confirmed that Features Updates content was not revised. New feature updates for Windows 10 versions 1809 and 1909 supersedes earlier versions and consists of a fix for the security issue in question.
Given the fact that the release date for these new feature updates uses the same period as the previous versions, Microsoft says the superseded feature updates are expired immediately in some environments.
CVE-2020-16908 is described as an elevation of privilege vulnerability, which affects the way Windows Setup handles directories. It can cause a locally authenticated attacker to run arbitrary code with elevated system privileges.
The vulnerability could allow attackers to potentially install programs view, change, or delete data, or create new accounts with complete user rights. The security update addressed the vulnerability and made sure that Windows Setup properly handles directories.
The issue exists in Windows 10 Setup that runs only when a user upgrades from a previous version of Windows 10 to a newer version. According to Microsoft, your Windows is vulnerable to this security issue only while upgrading to a newer version of Windows.
Windows 10 versions 1903 and 2004 users with WSUS or MEM ConfigMgr or another third-party management tool are advised to sync the latest feature update bundles.
Read: How to stop Windows 10 from upgrading to next version and set the target Feature Update version.