Microsoft has released Windows 10 Insider Preview Build 11102 in the Fast ring. As announced earlier about the changes in build release strategy by Microsoft, this new release gets announced just a week after the earlier Build 11099 release. Microsoft had said
"We are making some changes to how we release builds to the Fast ring starting in 2016. The criteria we use to release builds to Windows Insiders in the Fast ring will be much closer to our criteria for flighting to our internal rings. This will allow more builds to reach Windows Insider…."

Now talking of this new build 11102, Microsoft has alerted PC gamers and those who use accessibility software, because this build has issues that will impact them. Let us check what's new and the known issues in this build.
What's new in Windows 10 Insider Preview Build 11102
Microsoft Edge gets new history menu: The new feature allows to right click on the back and forward buttons in Microsoft Edge to quikly access recently visited sites. This was one of the most requested feature and has been implemented in this new build.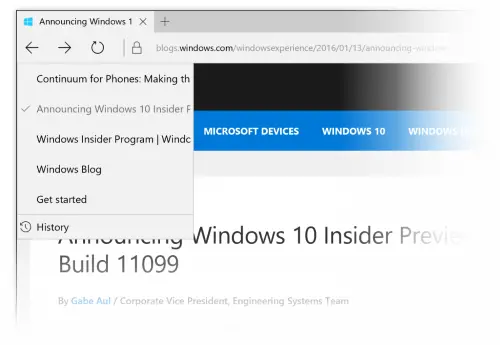 Known issues in Windows 10 Insider Preview Build 11102
Impact on PC gamers: If you are a PC gamer, be aware of the issue in this build. Due to a bug in Windows graphics stack, some PC games will crash-

when switching from windowed mode to full screen
when game resolution is changed
or when the game is launched
This issue noticed in games like Witcher3, Fallout 4, Tomb raider,Assassin's creed, Metal gera Solid V.
Impact on accessibility sofware: Applications such as Narrator, Magnifier and some other third party assistive technologies may face intermittent crashes. This issue will be fixed in next build.
Might see WSClient.dll error dialog after logging in. As a workaround, run the following in command prompt with admin rights:

schtasks /delete /TN "\Microsoft\Windows\WS\WSRefreshBannedAppsListTask" /F

While updating to this build, one might get a message that wireless card not compatible with Windows 10. Workaround is to install the latest driver by visiting the support page for the card or your PC.
Connect button may not show up in Action Center.
Announcing this new build, Gabe Aul, Corporate Vice President, Engineering Systems Team requested its users to send feedback or any issues faced.