Microsoft has released Windows 10 Insider Preview Build 14267 to Windows Insiders in the Fast ring for PCs. We had seen the release of previous build 14257 just 2 weeks back, so we can say Microsoft is releasing the builds quite regularly after making some changes to rings for Insiders in 2016.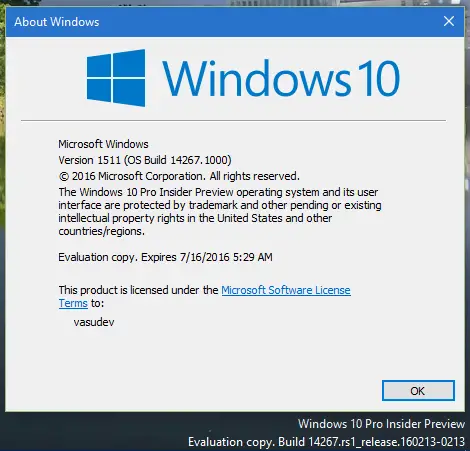 Just to recap, these changes were:
Addition of a new 

Release Preview ring

for those Insiders who wants to stay on current branch (currently builds are based on Build 10586). This is for those who wants to get all updates early but do not want to go all the way to installing full preview builds. It will be only visible to devices on the Current Branch (Build 10586). One can use

Media creation tool

to go between the Development Branch to the Current Branch for reinstalling Windows 10.

As said in our earlier posts too, Microsoft has tweaked the criteria for releasing new builds for Insiders in the Fast ring. The builds will be out more quickly so it may include more bugs. If one wants to change to more Stable builds by shifting to Slow ring.
What's new in Windows 10 Insider Preview Build 14267

Music search made easier in Cortana : Cortana gets a music search icon on top right making it easier to invoke music search. Just click on the music search icon and Cortana will listen and search for the song that's playing.
Improvements in Microsoft Edge:

Favorites bar improved : You can now right click the favorites bar and can show the favicons only. Right click also adds new folders option to the favorites bar.
Clear browsing data on exit : An option to clear browsing data on exit is provided in Microsoft Edge. Click on more option (3 dots ) > Settings > Choose what to clear > And Enable "Always clear this after I close the browser".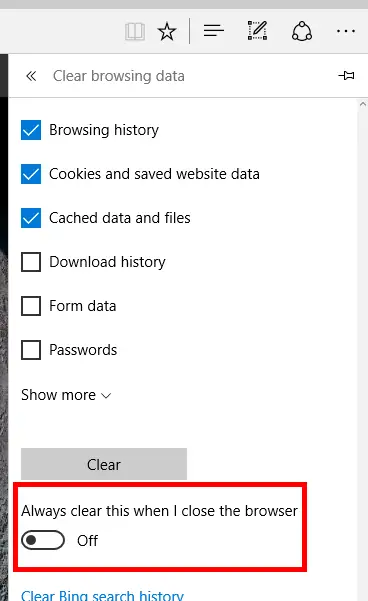 Improved Download prompts: An option to configure which shows a prompt when you start a download, allowing where to save the file . 3 dots > Settings > Downloads settings

Messaging + Skype improved : One can now attach photos to Skype message by clicking on the paperclip icon at left while composing message . One can also invoke Camera app to take a photo to attach to Skype message.
What's fixed in build 14267:
"Reset This PC" option under Settings >Update & Security > Recovery will work as expected.
No WSClient.dll error dialog on logging in as was seen in previous builds.
Front facing cameras of PCs with Intel RealSense cameras should be usable again. Also Windows Hello will be supported.
Fixed incorrect Storage capacity issue provided by System Volume under Settings > System > Storage
Known issues in Build 14267:
If you're using Hyper-V and upgrade to this build with more than one vswitch or have multiple virtual networking adapters (including legacy), you may lose networking connectivity after upgrade. This is the only known issue in this build. Microsoft has provided 2 Workaround for this issue for getting the network connectivity back:

Remove all the virtual network adapters connected to the vswitch, delete the vswitch and recreate it, then reconnect their virtual NIC to the new vswitch.
At admin command prompt, do "netcfg -d" will wipe-out all the vswitch settings so that you can start from scratch.
Announcing the new build, Gabe Aul also requested those users running the Windows 10 Education edition to join the Windows Insider Preview Program. So those students and teachers running this edition can go to Settings > Update & security > Advanced options and opt-in their PCs to receive Insider Preview builds. So they too can be a part of the ongoing process of improving the features and functionality of Windows.