Microsoft today released Windows 10 Insider Preview Build 14271 for PCs and Mobile build 14267.1004 to Windows Insiders in the Fast Ring. This is for the first time Microsoft is releasing PC and mobile build at the same time.
Based on the Insiders feedback, Microsoft has done lots of improvements and bug fixes for the build 14271.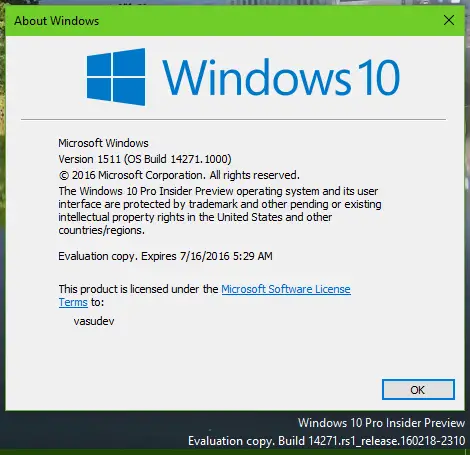 What's fixed in Windows 10 Insider Preview Build 14271
Fixed an issue where apps border changes to black from accent color after every upgrade to a new build.

Music control  icons shown in taskbar previews like in Groove updated to make it look more crisp and clean at higher resolution

Issue of taskbar not auto-hiding and unexpectedly showing on top of full screen windows in slideshow mode fixed

Issue of 'Hide notifications while presenting' setting preference is lost after upgrading to new build is fixed

The  entire app header in Action Center is now right-clickable instead of just the app name or "x".

Dismissing all notifications from a specific app in Action Center made easier by increasing the target area to cover the entire app header.

Issue of interactive notifications not showing button to input text is fixed.

Fast user switching with Picture Password is fixed

Issue of missing Win32 desktop apps from Start is fixed.

Issue of accent color not changing automatically when slideshow option chosen is fixed.

For developers, debugging tools Windbg, kd, cdb, ntsd now have improved support for universal app debugging.
Known issues in Build 14271:
Some PCs might freeze or get bluescreen on resuming from hibernation. This issue is being tracked by Microsoft and the workaround is to disable hibernation till a fix is issued.

A known driver bug that prevents Kaspersky Anti-Virus, Internet Security and the Kaspersky Total Security Suite from working as expected. Microsoft is partnering with Kaspersky to fix this issue for future release. At present there are no workarounds.

If "Always Show all icons in the notification area" is turned on then it disrupts the Systray layout.

Charts using D3.js library in the Microsoft Edge while browsing will not be displayed correctly. They might be rendered black, positioned incorrectly. Some known affected sites are Cortana, Bing.com, and PowerBI.com

Reports of apps such as QQ crashing due to an OS reliability issue. This bug is also impacting older apps such as Windows Live mail, Expression Encoder 4.
Windows 10 Mobile Insider Preview Build 14267.1004
Now talking about the Windows 10 Mobile build 14267.1004, this build released today is the same as which was released last week but with 2 very important fixes and a new feature. Here are those listed along with known issues:
Fixed the issue where the Lumia 550 no longer charges or connects via USB. If any user of 550 faces this issue, Microsoft has put up a

guide

on various methods of how to tackle this issue.

Visual voicemail notification issue fixed. Visual Voicemail for dual-SIM devices such as dual-SIM Lumia 950 XL is introduced now in this build and should work.

People app updated that brings back the history feature. Though Skype messages won't show up in history as of now but one can see the communication one had with the contacts.

Pinned Windows Feedback app to Start after upgrading from build 10586.107 will not be shown as pinned.

Issues related to connecting to wireless displays.

Trackpad while using Continuum on Lumia 950 XL is not working correctly.
Announcing about these new builds, Gabe Aul further mentioned that the new mobile build from Development Branch is available only to devices that are shipped with Windows 10 Mobile. So this means its only available to Lumia 950, 950 XL, 650, 550, and Xiaomi Mi4.
Apart from that Microsoft is also adding support for ALCATEL ONETOUCH Fierce XL. It plans to expand to other devices as it starts releasing Windows 10 Mobile to other devices.