Microsoft today released Windows 10 Insider Preview Build 14295 for PC and Mobile for Windows Insiders in the Fast ring. Apart from that, this build will also be released to those devices that will be capable of receiving updates as part of Windows Insider program excluding Lumia 635 , which will be supported at later date.
This Build 14295 being only a few days newer than the last build 14291 , there are no major new features. But there are lots of fixes in this build.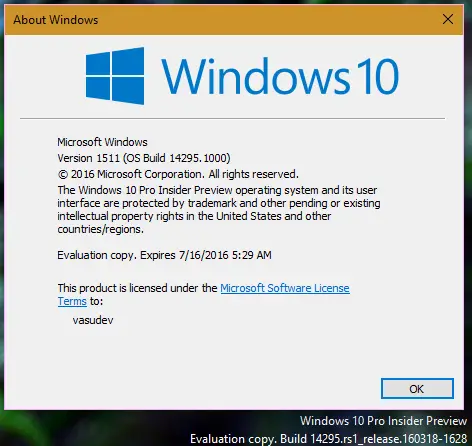 What's fixed in Windows 10 Build 14295 (PC) :
Issue of PC freezing when plugged into an Xbox One or Xbox 360 controller or other game pads is fixed.

Issue of Microsoft Edge refreshing the tab if caps lock in password field was pressed is fixed.

Issue of Xbox app, Xbox Live enabled apps and games preventing signing in is fixed.

Issue of driver bug that prevented Kaspersky Anti-virus, Internet security or Kaspersky Total Security Suite from working as expected is fixed.
What's fixed in Windows 10 Build 14295 (Mobile) :
Issue in build 14291 where on resetting the phone and restoring from a backup, restore will fail to install apps from backup's apps list leaving blank grey tiles is fixed.  Do a restore from a backup and have your apps restored and installed correctly.

Fixed an issue where new languages and keyboards were not downloading. But one need to go to Update & security > Phone update and restart the phone manually for the new language and keyboard to go active.
Known issues in Build 14295 (PC) :
Narrator and other screen reader apps not able to read the menu options in the Feedback Hub. Also, Narrator not reading selected text in the Feedback Hub, Cortana, and other apps.

If using Hyper-V and have a Virtual Switch configured for your network adapter, you may see an error indicator (red-colored "X") for network adapter in notification area though the network adapter continues to work fine.

Some PCs with TPM chips, such as the ASUS Zenbook UX31 may experience issues with audio and jumpy movement using the trackpad. As a temporary workaround, one can disable the tpm-maintenance task in Task Scheduler (under \microsoft\windows\tpm) as it is caused by "tpm-maintenance" task running constantly in the background.

PCs that use Windows Hello or a PIN to sign-in to the device will launch the Microsoft Passport service. This causes Bluetooth issue of continuously scan for devices thus reducing battery life, audio glitches, unresponsive Bluetooth keyboards, mice , decrease in Wi-Fi throughput in Wi-Fi/Bluetooth combo chipsets, Bluetooth file transfers.

Workaround: Disable Microsoft Passport (NgcSvc)service . Open elevated Command Prompt. Run "reg add HKLM\System\CurrentControlSet\Services\NgcSvc /v Start /t REG_DWORD /d 0x4 /f" and then reboot.  But one will not be able to use Hello or PIN to sign-in. In the next build this service will be re-enabled.

Connecting to Miracast receiver will fail.

Workaround:

Go to this registry key "HKEY_LOCAL_MACHINE\SYSTEM\CurrentControlSet\Services\SharedAccess\
Parameters" and select "StandaloneDhcpAddress" and change the value from "192.168.173.1" to "192.168.137.1" (value type is REG_SZ). Then retry the connection to the Miracast receiver.

Some apps like QQ crashing. This will also impact older programs like Windows Live Mail and Expression Encoder 4
Known issues in Build 14295 (Mobile) :
A system API failure occurs after the update that causes the Microsoft Band 1 or 2 to have sync issues. To make the Sync work again, reset your phone, re-pair your Microsoft Band.
Attempting to connect to a Miracast receiver the connection will fail. No workaround for Mobile.
The Gadgets app will not detect the Microsoft Display Dock on phones running Windows 10 Mobile Insider Preview builds. If the dock is not been updated, might face some minor USB-C stability issues.
Announcing this new build, Gabe Aul requested for the Feedback on any issues using the Feedback Hub.