Microsoft today released Windows 10 Insider Preview Build 14342 to Windows Insiders in the Fast ring with many bug fixes.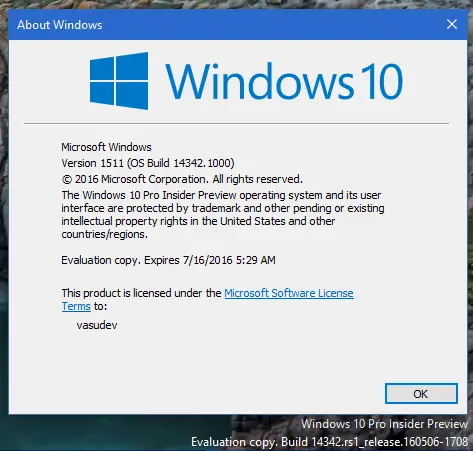 What's new in Windows 10 Build 14342:
Microsoft Edge Extensions updates: Now all available extensions can be directly downloaded from Windows Store so one doesn't have to extract and load extensions from the local folder. One has to reinstall the existing extensions. Also, new extensions like AdBlock and Adblock Plus are available from Windows Store. Microsoft recommends to install any one of them at a time but not both together.

A bug in present build causes the browser not to close or get context menus stop working if you turn off all extensions without uninstalling them. So to avoid this issue, uninstall any extensions you no longer want to use instead of turning them off

Web notifications in real-time in Microsoft Edge
Swipe gesture to navigate back and forward in Microsoft Edge
Many improvements in Bash on Ubuntu on Windows
Skype UWP Preview gets an update
Windows Ink Workspace icon updated
User Account Control (UAC) dialog gets new look supporting dark mode.
Middle-click on App's name in Action center will dismiss all notifications listed for that app
Will soon be able to redirect some websites to open with an app instead.
Feedback Hub will suggest the category your feedback belongs to, based on title and description
What's fixed in Build 14342 for PC:
This build fixes lots of bugs and issues, some of them are summarized here:
Fixed the issue blocking the Project Centennial, the Desktop App Converter Preview. Now it can be run on Enterprise as well as Pro edition of Windows.
Tencent online games now work in current builds from the Development branch
Fixed issue of playing DRM-protected content from various services like Groove Music, Microsoft Movies & TV, Netflix etc with playback.
Audio crashes issues of playing audio over S/PDIF or HDMI is fixed
Cortana animation on the lock screen is improved and also tapping the link to fix mic issues is fixed.
OK/cancel buttons of Network flyout being clipped on high DPI devices is fixed.
Issue of getting Windows Hello messages on the screen while you were already logging in with a fingerprint is fixed.
A link URL with more than 260 characters when clicked in an app would bring up "Open with…" instead of opening in browser is fixed
Not being able to use your mouse in the Photos app to either move photo while zoomed or adjust crop region issue is fixed.
ALT+Y keyboard shortcut for choosing Yes works with updated UAC UI
Updated new Credentials UI
Settings app gets better icons.
Action Center improved to display icon in taskbar correctly at 175% DPI
Polished the experience of cropping images in Screen Sketch and also the issue where the image used in Screen Sketch would be rotated 90 degrees in devices like Dell Venue 8 Pro is fixed.
Various flyout issue of Clock and Calendar is fixed
Updated "set location" notification.
Issues of shortcuts not working in UWPs is fixed.
Battery icon not opening the Battery flyout in Tablet mode is fixed.
Clicking elements in Start navigation pane resulting in opening the Store is fixed.
Issue where background audio tasks might show up in Volume controls is fixed
IME settings page now gets 'Clear Input History'
File Explorer unexpectedly navigating to Quick Access when any action on a file in a folder pinned to Quick Access after using the address bar is done is fixed.
Issue of Cortana crashing when an avatar is shared with Cortana from the Xbox Avatar apps is fixed
The search box in the Language Settings page not working is fixed.
Known issues in Build 14342 for PC:
Feedback Hub is not localized so it will be available only in English (US)
Feedback Hub will take 20-30 minutes to download and populate after updating if launched from Start
Symantec products such as Norton Antivirus, Norton Internet Security causing PCs to Bluescreen
Tencent QQ app is crashing.
Non-English keyboards not accepting Bash prompts.
All apps list on Start appears empty on some of the languages of Insider Preview builds.
New emoji might be shown as square boxes in some apps.
Apart from this, Gabe Aul also mentioned that the Wi-Fi sense feature which allows you to share Wi-Fi networks with your contacts and which automatically connects to the network shared by your contacts has been removed.
For more details of the bug fixes and known issues list, please check the Windows blog.